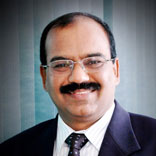 How did you happen to become an entrepreneur?
My brother and I had just completed school at that point. We are from an agrarian family, and our parents are school teachers. We were both of the opinion that we wanted to stand on our own feet, and not work for someone else. Our father encouraged us to start our own business.
We started off with trading in eggs in the beginning, as there were several farmers in the surrounding villages who we could trade with.
What is your business model?
We are a fully integrated poultry company- starting with our operations in farming, which follows the contract-farming model that we pioneered, own feed mills, hatcheries, vaccine, processing plant, retail outlets, etc.
We import grandparent birds from Aviagen (for broiler) and LohmannTierzucht GmbH (for layer) and breed them in our own farms. From that we get the parent lines, and from the parent lines, we get the final broiler and layer birds which are given to farmers in the contract-farming model.
How did you fund your venture in the start-up days?
We did not have fancy funds to start up with. So our mother gave us her jewellery to sell. We started off with just Rs 5,000 that we got from selling her gold chain.
Without any degree or formal education you were successful at business. How did you achieve that?
Had we gotten a degree and formal education, we might have gone for work elsewhere. Instead, we realised that the way to grow was to start our own business, and we got to doing that as soon as we completed our schooling. Degree or formal education is not what is required to start a business. What is required to start a business, more than anything else, is courage and determination. We learned from experiences, and as the cliché goes, we realised experience is the best teacher.
Tell us about the setbacks you were faced with, and how did you overcome them?
Our main setback during the beginning stage was the crash in poultry prices in 1989-90. The farmers were unable to repay us for the chicks and eggs we had supplied to them due to this price crash. We had to come up with a solution to form a model where the farmers could repay us without going on a loss themselves. From this setback grew one of the most successful models of our business--- contract farming. We helped the farmers by introducing this model wherein we supply chick, feed and other technical support to the farmers, and the farmers have to have land, shed and labour to work in the farms. Once the chicks reach 37 days growth, they are 'lifted' (similar to harvested) from the farms and supplied to retail outlets for consumption. In return for growing our chicks, we would give the farmers growing charges. A lot of people discouraged us regarding this model, but we went on with it, and hence, this model evolved and is now the contract-farming model we know. We pioneered the concept of contract farming in India.
What part of the business does your brother take care of?
He is the Managing Director of Suguna Poultry Farm Limited. He handles the complete business for Suguna Poultry, whereas I am the Chairman of Suguna Group, which is a holding company that has other businesses in it. We divide the duties between us so that each business can be given enough amount of dedicated concentration it requires.
Tell us about the external funding received so far by the company? When are you planning to go for an IPO?
IFC has invested in our company. They invested $11 million for a five per cent stake in the company. IPO is not something we are considering anytime in the near future.
Tell us about your international operations. In how many countries are you present?
Most of Suguna's scope is currently domestic. However, we also export frozen chicken to countries like Saudi Arabia, Kuwait, Dubai, Oman, Bahrain, Afghanistan and Qatar.
How much revenue does the company get from its value-added products?
The value-added products contribute to five per cent of our turnover. Most of the market is still dominated by live chicken. This phenomenon is slowly changing, as the demand for  value-added products is growing.
What led to the company's foray into retail? How many Daily Fressh stores do you have presently, and how many more are you planning to open?
If you see the existing live-bird shops, it is clear that hygiene is not their top priority. While buying an easily perishable good like chicken, hygiene is an important factor. We wanted to give that to the customer, and that led to us starting Daily Fressh stores where the customer can buy processed chicken in a hygienic place.
Currently, we have around 95 Daily Fressh stores, and we are planning to open 500 more this year.
What potential do you see in this industry?
The poultry sector is growing at a rate of 8-10 per cent annually, with demand for domestic broiler growing at a rate of 15-18 per cent per annum.
What are your growth plans?
We plan moving from being a poultry company to becoming a global food company.
Please share your nuggets of wisdom for prospective entrepreneurs.
Don't be discouraged by failures, getting over these failures is what defines your path. Be passionate in what you do, and believe in your cause to succeed in it. Turn a deaf ear to discouragements, and concentrate on the cause you believe in, and you will succeed.