Check out m-Chek!
"Things will always go wrong but that is the time, when people should trust you the most." With this success mantra, Sanjay Swamy has made it big in the mobile payment service industry. The CEO in conversation with Franchise India Media.
Tags: Sanjay Swamy, CEO, m-Chek
BY Shambhavi Anand | November 17, 2009 | COMMENTS ( 0 ) |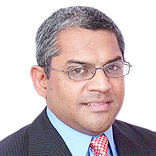 Sanjay Swamy
CEO, m-Chek
"Things will always go wrong but that is the time, when people should trust you the most." With this success mantra, Sanjay Swamy has made it big in the mobile payment service industry. The CEO in conversation with Franchise India Media.
Shambhavi Anand (SA): Tell us about m-Chek.
Sanjay Swamy (SS): We are a mobile payment service provider. Our focus is to enable our customers, to pay the bills through their mobile phones using their bank accounts, credit cards and debit cards. Our key partners are the major telecom players and banks in India, namely, Airtel and Tata Indicom; and ICICI, HDFC, SBI, Standard Chartered and others respectively.
(SA): What inspired you to take up this concept?
(SS): In 2003, I had come to India for a vacation, I inquired about the time from an auto driver and he referred to the time displayed on his mobile phone to do the needful. That kept me wondering about the impact of mobile telephony, as the incident happened when there were just 30 million mobile phone users in the nation. So you can imagine the current impact and the future potential!
Since its advent in India, the mobile telephony has been booming, creating innumerable and various kinds of opportunities. To leverage the benefits of the flourishing sector, we created a business model based on mobile telephony that was sustainable. Also, the Internet connectivity in the country has been gradually improving; there could not have been a better option than clubbing the mobile phone services and the Internet to form the basis of our service.
Looking from the consumers' point of view, one might say that cash-based transaction, for paying a bill, costs nothing. But they forget that it costs them their valuable time and energy, not to mention the traffic jams and pollution that they endure during the process. I felt, there was a compelling need for such a service.
(SA): How did you go about funding your startup?
(SS): m-Chek is a venture capital-funded company.
(SA): What challenges did you face as a start-up?
Given the space that we are in, consumer perception is very important. We deal with consumers' money so we need to be very careful and work hard for winning their trust, which is our biggest challenge. We cannot afford to make mistakes. Security is the main concern and non-negotiable too. But since our team comes from the security domain we are confident about it.
On the other hand, we work with partners, who are leaders with strong reputation in their domain. So as they were putting a bet on us, we had to live upto their standards. However, over a period of time we have been able to build both trust and reputation.
(SA): Considering the Airtel-m-Chek and now Tata-m-Chek relationship, how does the model work?
(SS): We have a partnership model. They are challenging partners to work with. But the kind of service we provide, we needed to work with large companies. Big companies are able to appreciate partners, who have unique things to offer. The model that we have is scalable and viable for both the parties. We have been lucky enough to establish a relationship with some of the largest companies not just in India but the world too.
What challenges do you expect to face in the future?
(SS): We have a competition with the cash-based method of payment. Mobile payment has to win over cash-based transaction. Customers should say the mode of payment through mobile is the best. They should use m-Chek for everyday bills.
Our challenge is to realise this, rapidly. Like, today, when you meet someone you assume that the person owns a mobile phone, likewise, there should come a day when you assume that people use m-Chek. 'm-Chek' should become a verb.
(SA): What are your future plans for the company?
(SS): Right now our focus areas are recharge, ticketing and some shopping. But we can have more subscribers through adding more banking and telecom partners.
Till now we are able to provide service to the section of people, who have bank accounts. But our future plan is to bring those people under the domain of mobile payment, who either do not have bank accounts due to lack of accessibility or because they do not find the banking system convenient (the problem of going to a branch or ATM to withdraw cash and then go out to pay bills). Through m-Check money can be deposited in the bank and be accessible anywhere, anytime. There should be no hassle of going and withdrawing. This will also be convenient for banks as the resources spent in running a branch will be minimised. Even if we are able to convert 1 per cent of the cash, in the country, to m-Chek it will be a sizeable amount to create an impact in the nation.
Though our primary focus is India, there have been requests from other markets like Srilanka, to start our services.
(SA): What advice do you have for the new entrepreneurs?
(SS): To new entrepreneurs, I will say dream very big. And do not let anyone tell you that it is impossible to realise your dream. Also, do not get awed by initial success. Every business has a growing time. And this is the best time in India to be an entrepreneur. If you do not act now you will never do it.