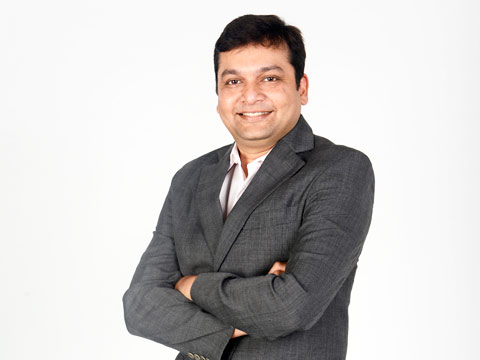 Ashish Shah
COO & Founder, Pepperfry.com
Before venturing into the world of entrepreneurship, Ashish Shah used to head eBay Motors business in India and Philippines. Prior to eBay, he has worked with Baazee.com, C1 India and with several other business houses in India. The extensive 16 years of experience in the industry gave him the confidence and inspiration to build his own venture Pepperfry.com
In an interaction with EntrepreneurIndia.com, Ashish Shah, COO and Founder, Pepperfry.com, shares his entrepreneurial journey, milestones achieved, fund raising, expansion plans and throws some light on his aggressive marketing initiatives:
How did the entrepreneurial bug bit you?
I have spent more than 16 years in the internet industry and I feel that it has immense potential. When I was heading the eBay Motors business in India and Philippines, I managed to build it as India's largest automobile transaction marketplace from scratch to a $100 million business. This experience gave me the confidence and inspired me to build my own successful business like Pepperfry.
Prior to eBay, I have worked with Baazee.com, C1 India and several other corporates in India as a consultant on e-procurement, logistics & packaging, and spend management. I always aspired to start my own venture and the accumulated experiences in e-commerce operation proved to be a great asset in building Pepperfry.
Highlight major breakthroughs achieved in terms of growth.
We recently shipped out our 100,000th furniture piece. We have managed to achieve this in a little over two-and-a-half years of operations, which for us is a big milestone. We have scaled from shipping 150 pieces of furniture a month to delivering 15,000 pieces a month. Today, we sell a piece of furniture every minute which reflects our exponential growth in the segment.
We have successfully established the 'Last Mile Delivery' in 147 towns directly and have shipped furniture across 2,700 towns in India, which is the largest reach in terms of geography. Our merchant base is growing and today, we have more than 1,000 merchants selling on us. In October, Pepperfry had close to 4 million visitors and more than 2 million unique visitors. Our daily average visits are more than 150,000.
What was the turnover last year? What kind of numbers you would like to add in the next fiscal year?
Pepperfry has grown 18X times in the last few months on the back of its strong supply chain, logistics proficiency and wide collection of products. These factors act as a key differentiator in delivering great shopping experiences to consumers across the country. In the last quarter of 2013, our run rate was Rs 75 crore. With the current revenue run rate of Rs 350 crore, the company aims to grow up to Rs 1,000 crore by the end of 2015.
Pepperfry.com plans to raise $50-60 million in a fresh round of funding. What is the present status and how the fund, once raised, will be utilised?
Till date, Pepperfry has raised $28 million from its investors Norwest Venture Partners (NVP) and Bertelsmann India Investments (BII). In our next round of funding, we are looking to raise $50-60 million in our Series D. We are looking to close the next round by the end of first quarter next year.
At present, we have sufficient funds to manage our business, but we are looking at raising more funds in order to lead the growth in the segment. We plan to use the funds in reviving supply chain, logistics, operations, marketing and work force in that order.
We are building the largest logistics company in the country to service our products and will be investing in building our LMD services. We plan to increase our LMD to 275 vehicles and directly reach 400 towns and cities by next year.
The e-commerce industry for the last few years witnessed a number of online players in the furniture and home decor space, what is your core strategy to survive in this domain?
With registered user base of 1.5 million customers, we are leading the segment and will continue to lead the growth in the home and furniture segment. The segment is growing at 400 per cent and we see a huge opportunity to establish ourselves as leaders in this space.
Today, we have more than 75,000 home and furniture products on our site and in the next few months, we plan to double the products offered. To name a few, we will be partnering with national and regional brands like Godrej Interio, Stylespa, etc. We are able to deliver this exhaustive range of products through our robust logistics and supply chain. Peppefry's unique and proprietary large item shipment network covers 127 towns and cities, which is almost more than 97 per cent of furniture orders placed on the marketplace.
We directly ship to 147 cities and towns in the country through our Last Mile Delivery (LMD). We plan to extend that LMD to 400 cities by next year. We are continuously improving on the customer experience that we provide to our consumers.
What are your upcoming marketing initiatives?
As an integral part of our marketing initiative, we are looking to open 15 Experience Centres (offline stores) by the next year in major cities. The idea is to build confidence for our products in our customer's minds and enable them to make the right purchase decision.
We are looking at setting up these centres near upscale residential areas, where the rentals are comparatively lower than high-street locations. During the course of the next 12 months, we will roll out 3 to 4 large marketing campaigns to consolidate our brand positioning. Currently, we are a workforce of 350 folks which we will expand to 750 by next year.
How big is the online home decor and furniture market in India? What are the present opportunities and challenges in this space?
Globally, online home businesses contribute about 15 to 20 per cent of the total online business, while comparatively in India, it is currently fewer than 2 per cent. This is set to change in the coming 3-5 years with leading home players set to reach the global standards. Pepperfry sees a huge opportunity to lead this growth.
The biggest challenge for e-commerce as an industry is poor infrastructure and supply chain. Additionally, poor last mile connectivity due to missing links in supply chain infrastructure is limiting the access to areas where a significant portion of online customers reside.
For a specialised vertical like furniture large item, distribution poses as a huge challenge. There is no prototype in the online industry for a vertical like furniture that can be imitated. It was a huge challenge that we overcame by pioneering our own 'Large Item Distribution model', which hasn't been attempted by any other company in the past.
Today, at Pepperfry, we have successfully overcome supply chain hindrance with the 'Large Item Distribution model' that enables for door delivery of large furniture items in more than 147 cities and towns across the country with an unprecedented accuracy at lowest costs in comparison to the industry. It has been built in a scalable manner and will enable us to expand our geographical reach across the country.
How does your marketplace model work and how does it help SMEs gain foothold in this domain?
Pepperfry's 'managed marketplace' model acts as an ideal platform for small and medium business artisans and merchants who wish to sell their merchandise to millions of discerning customers.
For many merchants, it has become the primary source of their income. Currently, the website has over a thousand merchant partners, who can showcase their design skills, craftsmanship and service orientation to customers across India and the world. For many merchants, it has become the primary source of their income.
In the last 2.5 years, since the launch in Jan 2012, more than 3,700 sellers have associated with Pepperfry. Pepperfry is helping these SMEs bridge the internet literacy gap by providing them end-to-end support to take their business online. Today, 70 per cent of Pepperfry's sales relate to SME suppliers and artisans.