Sustaining returns out of waste
For someone who didnít give herself a career choice- Poonam Bir Kasturi was always born to lead. Her entrepreneurial skills were first identified and nurtured by her father, who was her friend, philosopher and guide in the true sense of the word. With all
Tags: service industry
BY Archana Pareek | January 08, 2011 | COMMENTS ( 10 ) |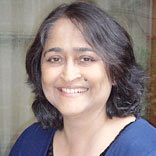 Poonam Bir Kasturi
Founder, Daily Dumps
For someone who didn't give herself a career choice- Poonam Bir Kasturi was always born to lead. Her entrepreneurial skills were first identified and nurtured by her father, who was her friend, philosopher and guide in the true sense of the word. With all the innovations to her credit, this humble and humane lady prefers to be called the 'Compostwalli' of India. Giving her due credit for all that she has gone through to make her contribution count for the ecosystem, Poonam calls Daily Dumps a 'not-for greed company', for which she is charting a growth route with sustainability at its core foundation.
Quick facts:
Age of company: 4.5years
No. of employees: 8
No. of offices and locations: 17 clones all over the world
Position held in the company : 'Compostwalli' (Founder)
Educational qualifications: Industrial Design from NID
Turnover: 2009 – 22,00,000
Startup cost: 2,00,000
AP: Tell us about your company Daily Dumps? How did the company come into existence?
PBK: Daily Dumps is a company that helps you convert your organic waste to compost. We facilitate a lot of product, service and technical support in this regard and also encourage opening of clones that will take this venture a step further. Daily Dumps is all about the age old composting, that has been decoded to make it feasible at the micro or home level.
I have always been curious on how we can design a fresh way of looking at change in the way we do business; in the way we approach our everyday problems, change in our mindsets. My background of working in small scale industry, crafts, design education etc helped me formulate the vision I had for Daily Dump. I wanted to do something where I could apply all the ideas that were to crying out in my head for action.
AP: What is your business model? What all do you offer under this name?
PBK: We offer products, services and an open-source platform for others to use the knowledge and build on it. We are slowly developing into a community of domain experts who have experience on the ground.
AP: How has the company grown under your able guidance? What has been your strategy to bring it to this level since inception?
PBK: I think that the time is right – there is a heightened consciousness about the environment now. Bangalore is a great place to work with new ideas, so it is both a case of the right time and place and a case of hard perseverance. Saying yes, I can do this, even if there seems to be no real change visible – as yet, is what drives me.
AP: What is the biggest challenge you have faced so far while trying to promote eco-friendly means in India?
PBK: Mindsets. Nobody wants to work with their own waste in India. The government believes and supports large centralized systems without enough support on informal networks or decentralized solutions. The tender document of waste for every city in India needs to be rewritten.
AP: What has been the key marketing and brand building strategy that you have adopted? Also what is your USP?
PBK: We have relied on word of mouth publicity to build our brand. We are very committed to customer satisfaction and our USP is that we are transparent about our processes and our faults. We do not market – we innovate and wait for the light of that to draw people in.
AP: What is your take on Private equity and Venture capital investment as funding options in case you look out to expand your business operations?
PBK: So far, I have used my money to fund the business. I believe, I need to learn more about this, but yes, good partners who bring other skills to the table are very valuable.

AP: What is your word of advice for today's entrepreneurs who would like to enter into this Industry? What investment is needed?
PBK: The investment of fresh thought. If we continue to do business as usual, the sheer size of our population will bring down whatever growth figures we now are proud of. Fresh thinking is the best investment this country needs. Money it already has.
Please add your comment
RAJANNA.S
October 27, 2012 at 8:37 pm
If i want to this daily dump@ RAJAJINAGAR what help you provide
Reply |
J.S.Sankara
June 27, 2011 at 10:03 am
I am looking for a good project so please send more details of your project and the secret of your success because I experienced only failure in my life
Reply |
Jaffer
February 22, 2011 at 2:58 am
I like ur idea of business, If u have any plan to grow in other cities or expansion in Thanjavure Dist Tamil Nadu , pls let us know, Jaff
Reply |
Hari
February 19, 2011 at 11:47 am
This is very much needed by major cities. I have an idea to start this is in my place(chennai). Tell me more details about this.
Reply |
anish
February 15, 2011 at 1:14 am
kindly send more information
Reply |
mahesh
February 12, 2011 at 7:46 am
Please do send me details about this project. contact member@franchiseindia.com
Reply |
mahesh
February 12, 2011 at 7:46 am
Please do send me details about this project Regards mahesh
Reply |
Anindita Sen
February 06, 2011 at 10:19 pm
Hi, it is a brilliant job what Ms. Poonam Bir Kasturi is doing.I want to know,if anyone is interested to start such a work,what are the infrastructures required,and what would be the start up method?
Reply |
raj kosal
January 20, 2011 at 7:08 am
If I want to start this daily dump ,what help you will provide.Contact member@franchiseindia.com
Reply |
ved sudesh
January 15, 2011 at 2:36 am
Dear MIss Poonam. I like ur idea of business, If u have any plan to grow in other cities or expansion , pls let us know, Mumbai/Thane/Kalyan.Contact member@franchiseindia.com
Reply |