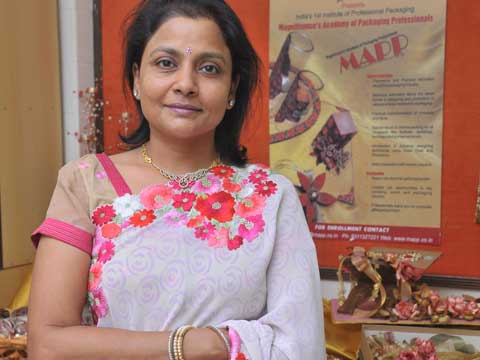 Shalini Beriwal
Founder, MAPP
Established in the year 2002, Magnificence's Academy of Packaging Professionals (MAPP) is the brainchild of Shalini Beriwal. Ten years ago, Beriwal was exposed to the world of creative gift packaging.
The tremendous demand for fashionable quality products and creative packaging gave birth to the concept of imparting the skill to others to cash upon the platform of packaging industry.
MAPP aims at directing enthusiasts wanting to excel in the field of packaging by giving them professional knowledge and practical training while nurturing their creative aptitude.
In an interaction with EntrepreneurIndia.com, Shalini Beriwal, Founder, MAPP, shares her views about the unskilled workforce in India, ignorance on the part of skill development ministry and the important role of ministry to ensure youth employment in India:
What are the key challenges in the skill development industry in India?
In India, people still do not take skill development as an education, where one gets degree. It becomes difficult for skill based industries to get skilled labour. Instead, they have to train people to suit their needs and if incase one leaves his/her job, the whole process starts again.
Secondly, there are very few institutes teaching skill development in India. Also, these institutes work in specific fields, including the ones sported by the government or by large industries, which have to train their own labour. In wedding industry, we have to train all the people ourselves.
What are your expectations from the newly created ministry of skill development?
We expect that the newly created ministry will include lot other skills, which are not yet included in the category of skill such as – manufacturing gift packaging accessories, which can be major revenue earner for uneducated people.
As the wedding industry is huge in size, we have to practically import everything from China. We hope the ministry will not only take care of launching skill development programmes, but will also ensure creating self-employment opportunities for these skilled labourers. In my view, ministry should invite people to share skills.
What is the present scenario of unskilled workforce in India? What are the challenges are you facing while imparting trainings?
Right now, unskilled workforce in India is working as labour or as a household help. We want to go to villages and train people there, but it is very difficult for any individual to create the entire system on its own.
Our institute teaches skill of gift packaging, empowering students to earn successfully. But if I need to run the similar place in a rural area, no teacher from the city will go to villages. These skill training centers need to be run by local people who are trained by trainers.
It is very much possible, but the same needs dedication and funds, till the time center becomes self sustaining. We have to create a system as a whole, where one gets training, learn to produce, can get raw material, and then have medium to sell. This will complete the entire circle.
What is the key role of MAPP to generate employment opportunities for trainees? How trainees are benefitted by the training offered by MAPP?
As of 2013, 250 students have passed out of MAPP. The organisation has departed more than 2200 hours of teaching over the past year. MAPP houses eight resident faculty, which mostly includes previous MAPP students, five skilled freelance faculties with specialised skills in computer aided design (CAD) and marketing.
Besides, the organisation has seven visiting faculty including people who have made mark in their respective fields, like Evergreen (Sweets), Vivaha (marketing and professionals), Cafferels (corporate gift packaging) and Kaur Cookies (confectionary and chocolates).
How skill development can help India to exploit its 'demographic dividend'?
First of all, India has a very rich inheritance in skill, art and handicraft. And it plays to our benefit. Young people have to understand that getting an MBA degree is not the only way to success, but our attitude towards skill can help us develop products and businesses. We can be the biggest source of skilled people for world over.