Moving up the Growth Ladder
Started in 2011, multi-brand FMCG retail chain Savemax boasts of pioneering the wholesale club model in India to offer special benefits to customers in terms of pricing, quality of goods and services.
Tags: Vaibhav Singhal, Savemax, indian retail sector, FMCG
BY Sandeep Soni | August 27, 2014 | COMMENTS ( 0 ) |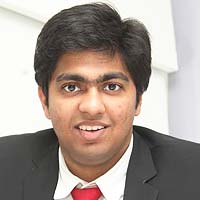 Vaibhav Singhal
Founder Director, Savemax
With massive growth of Rs 125 crore retail turnover in just three years, the store plans to across India in few years. Vaibhav Singhal, Founder Director, Savemax, shares his growth journey and much more in a chat with Entrepreneur.
Why did you foray into offline retail?
We believe that despite the progress made by the online medium as an alternate shopping platform, stores will never go out of fad because a sizeable section of the population still wants to personally check the product before they buy it. This is normal human psychology. That said, given the convenience of the online system, we are also coming up with an online portal. Our online presence will ensure that we also capture that segment of the market, which wants to shop from the comfort of their homes.
What is the USP of Savemax?
It is the first retail chain to introduce the wholesale model in India through which the customers get wholesale rates on all products on all days. We are more organised than the wholesale markets. We merchandise our products differently with all major categories getting representation but each sub category is represented by the leading products/brands in their respective markets. This is to ensure that customers are not confused with shadow brands, which adds to the convenience of shopping.
What challenges are faced by new FMCG players nowadays?
The biggest challenge that the retail sector faces today is setting up a supply chain which needs to be smooth, sustainable and economical. We believe in the strength of India's existing distribution system that is able to supply goods efficiently to over a 10 million small and big shops in all corners of India. We are trying to tap into this system and work out a 100 per cent direct store delivery SCM (Supply Chain Management) model that will help us solve the supply chain problems. Along with paucity of right talent, retail sector also faces challenge of getting the right location for opening stores, considering our town planning does not account for the same.
Share your growth figures.
We started with Rs 25 crore as the initial capital and last year our retail turnover touched Rs 125-crore mark. This fiscal we are targeting that to reach Rs 200 crore. Moreover our average ticket size is Rs 1,700. Furthermore, our per store capex is approximately Rs 12 - 13 crores when we have our own land and Rs 4–5 crore when we lease out a property.
How do you see achieving transformational growth in business in next few years?
At present, Savemax has three multi-brand retail stores in Delhi, out of which two are located in Dwarka and one in Kalkaji. All stores are company operated, as we believe that we can serve our customers better this way. Also, this model cuts out middle layers and puts more money in the wallets of our customers. Depending on the location, we have about 20k to 40k per footfall in our stores.
We are entering Haryana and UP in the next two months. These stores will be spread across a total area of 1 lakh sq.ft, with the aim to provide wholesale rates to customers on all products every day and insulate them to the extent possible from price rise.
In addition to that we plan to have a national footprint by opening 15-18 new stores in Gujarat, Maharashtra, Chhattisgarh, Madhya Pradesh, Delhi, Haryana, Punjab, Uttarakhand and Uttar Pradesh with a capital expenditure of around Rs 300 crore and we believe that this move will help us transform into a big FMCG retail brand.