Keeping start-ups plugged-in
Not many think so closely about start-ups, as was felt by this IIT and IIM graduate. Seeing the passion and creativity of the startups that make a global impact, Ashish Sinha initiated a platform called pluGGd.in that shares with and cares for startups. T
Tags: PluGGd.in, Ashish Sinha, Entrepreneur, Indian technology startups
BY Shambhavi Anand | December 23, 2009 | COMMENTS ( 1 ) |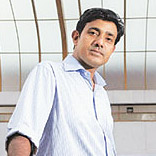 Ashish Sinha
Product Strategy Consultant at pluGGd.in,
Not many think so closely about start-ups, as was felt by this IIT and IIM graduate. Seeing the passion and creativity of the startups that make a global impact, Ashish Sinha initiated a platform called pluGGd.in that shares with and cares for startups. The entrepreneur in conversation with Franchise India Media.
Shambhavi Anand (SA): Tell us about pluGGd.in and the mentoring services you offer.
Ashish Sinha (AS): pluGGd.in is a website that focuses on Indian startups, entrepreneurship, and technology. The company also reviews Indian technology-based startups and offers mentoring services like helping startups define their business plans and connecting them with angel investors.
SA: What is the USP of pluGGd.in?
AS: The insight that our team with in-depth knowledge about technology and business, brings in help us stand out. We don't run a news portal but provide assistance to startups as well. We are known more for our on-the-ground efforts wherein we work closely with startups and small businesses to help them tread the growth curve.
SA: When and how was pluGGd.in launched? How did you conceive the idea?
AS: The website was launched in early 2007 and the sole reason for starting this website was to create a platform for startups/small businesses to interact with each other. If you look at India's IT industry, you will find it to be a service industry, predominantly. However, a lot of startups offering IT-related products came up in 2006-2007, but they did not see a steady growth as there was no platform for them to showcase their products and get feedback from the users. That's the gap we are trying to fill.
SA: What inspires you to work for start-ups?
AS: For the simple reason that they have a lot of energy and passion; most of them are tremendously creative and it's amazing to see a few of these startups making a global impact. I just want to be part of those success stories.
SA: What is your business model?
AS: So far, we have based our business model on advertising. We also license our content to several publications and actively look for such options. We are coming up with a few new business activities in the coming months.
SA: Arranging finance is always the most crucial issue for start ups. How do you help them tide over this problem?
AS: There are two aspects to this. First is, understanding how much does a start up really need. Most of the times, startups overestimate their fund requirement (especially in the early days). We work with startups/small businesses to help them understand that their business' working capital is the real need. The second is raising funds. Startups must understand that they need to approach angel investors in the early days. pluGGd.in serves as a platform to connect startups with angel investors.
SA: What hurdles did you face as an entrepreneur?
AS: First and foremost, getting the right team. You need people with immense passion and positive energy to sail through difficult times. Also, since we do not have a big marketing budget, reaching out to our target group across the country is definitely a big challenge.
SA: How did you fund your business?
AS: The venture is self-funded. So far, we haven't raised funds.
SA: Any advice to aspiring entrepreneurs?
AS: Entrepreneurs should ensure that they have done their homework well before taking the plunge. Entrepreneurship isn't 'romance' – it's a career as well as lifestyle (essentially, it's a marriage!). Do not create product, unless you have figured out the market. Have a solid sales plan. Last but not the least; do understand that relationship building is as important as any other factor to make a business successful. Many entrepreneurs do not spend time in building relationship with customers, press/media or industry experts, which is not a good practice.
Please add your comment
Vivek
June 19, 2010 at 6:14 am
Excellent interview.
Reply |