Leveraging the product market
It is very important to know who your target is when starting a business, otherwise it would be like a struggle; a swim against the tide
Tags: Product Market, Visham Sikand
BY Entrepreneur | Jul 07, 2011 comments ( 1 ) |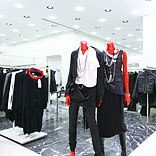 Good sale is the ultimate aim of any firm. But have you ever given a thought to how much effort it takes to make that possible? What are the success ingredients of a good sale? If you thought, near perfect product, competitive pricing, motivational advertising constitute good marketing, then you have probably missed out on the role of Target Market, which should ideally be the first in the rung of the above mentioned elements of a good marketing. If you desire a towering success, then don't try to sell ice to the Eskimo; it is as simple as this!
Determining the Target market
Product market means the target market. There should not be any mish-mash in zeroing in on a market. All efforts will go waste if the products and services are not directed in the right market. This is called niche marketing. Secondly, you must price the product right and for this a lot of research needs to be done. The age group is another important factor, so it is imperative to find out whether the product will be useful to babies or children or teenagers or youngsters or middle aged or old. Sometimes there is a possibility that the product will cater to the needs of all age groups. Next thing to consider is gender. Marital status, occupation, ethnic background, health status, income status, education, hobbies, etc., are some of the factors that should also be pondered upon while finding your target customers.
Small businesses-overcome your fears
Given the theory that big fishes are always trying to usurp small fishes, small businesses may forever be stressed with fear of competition from large companies as the former produce products considering a bigger spectrum. But if one takes it positively, he will find that the former sometimes may not be customer specific as the products are more generalised and they don't much care about the competition they might get from others. Here comes the role of smaller firms to produce products, which can cater to the need of a section of people whose needs aren't met specifically by the large companies.
Reaching out
After the product market has been established, the next step would be to bring customers to the level of presence of those products in that market. The internet has made reaching out to the targeted customers very easy. Search engines can be utilised to the maximum extent for this purpose.
Next is getting there by newsletters and ezines. Many ezines are related to marketing, finance, shopping, Internet, etc. A number of ezine websites can be found in an ezines directory, which even contains the contact information, advertising price, etc. Lastly, you must find a way to reach the customers and for that a suitable advertising channel needs to be found. Websites and newspapers are some other forms of popular advertsing to reach the target audience etc. Here, a little research to find out which website and newspapers are more read by the particular target will certainly help before kick-starting the project.
Visham Sikand, CEO, Plat5 consultancy shares from Harvard , "Just passing out from PLD(ex-ed) at Harvard Business School, 3 days ago, I have concluded that if your product caters to the customer need-gap and if your offering is simple and well managed-you are heading for success. Product Market could be disruptive, in which you make a simpler product offering which market hasnt covered that need and you manage the offering very efficiently- the advantage of this being that competition ignores such entries and you get the lead to gain market share. While the other option is to compete in same lines as others (probably a better offering) but in this case you need to be careful, as competition will surely catch-up on this. Product Market can be defined from the product category you attempt to focus and various customer interactions can help you on this(mkt reseacrh, focus groups, watching the customer sales to usage cycle, etc). Above all, ensure that product usability is high and simple!
Conclusion: Trial and error method will impact your marketing as well as your expenses which could be difficult for a small entity like you, so rely on a researched market that has an audience for your product to avoid being a square peg in a round hole!
Please add your comment
naninanresh
December 28, 2012 at 10:25 am
i am starting business
Reply |