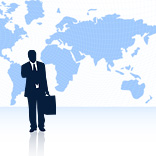 Neetu Bhatia, the founder of Kya Zoonga, online ticketing company, let go a flourishing career at Lehman Brothers, to discover a business opportunity in online ticketing. The idea was to let people save the pain of standing in a queue to buy entertainment tickets, be it movies, sports tournaments, theatre shows etc.
Starting off in 2007, Kya Zoonga has quickly zoomed out to multiply its turnover and rise to international fame. The International Cricket Council appointed the company as its official ticketing partner for India. Sharad Pawar, Vice President ICC and Chairman of the central organizing committee of ICC CWC 2011, bought the first ticket to the inaugural match between India and Bangladesh online.
What is the secret of this meteoric rise? Neetu explains.
Why was Kya Zoonga singled out by ICC among other online ticketing companies in India? Neetu answers, 'We actually brought the concept of online ticketing to India. Apart from this, I think our experience in ticketing for all formats of cricket matches, national and international, be it test matches, one days, IPL international locations, gives us the edge. We not just provide online ticketing, centralized distribution, wide retail penetration, understanding customer demographics are the main differentiators of our services. Haroon Lorgat, Chief Executive of the ICC, said, 'We're thrilled to appoint KyaZoonga in this crucial role, as we have been impressed with their ticketing track record, world class ticketing services and previous experience with the cricket ticketing in the Indian subcontinent. We look forward to seeing a full house throughout the tournament."
How Kya Zoonga embraced the challenge? 'Making available tickets online for such a huge event as the ICC is a very complex and challenging task,' says Neetu. Online ticket sales had to be launched at thirteen venues across three host countries India, Sri Lanka and Bangladesh. So how did Kya Zoonga prepare for the challenge? 'We have been continuously preparing since 12-18 months. We used this time to build up capacity and add never before experienced features to the ticketing experience of cricket fans. We went to each and every stadium to host the matches and got the view of the ground clicked from each stand.
What are the innovations? Innovation is the forte of Kya Zoonga. 'The innovative and delightful experiences we provide to cricket lovers, add value not only to the event but also to the ticketing experience. This is the first time in the history of cricket that booking for the tickets has commenced 9 months in advance. We have started the booking so early so that people can plan their trips well in advance.
The ticketing site has several innovative and customer-friendly features such as multiple currency options (INR, LKR, BDT, USD) and View from the Stand, a first of its kind feature that allows customers to view the cricket ground from their selected stands before they purchase their tickets. Other unique features include automatic Facebook and Twitter updates to users' profiles once they have bought their tickets. So every buyer of the ticket becomes a messenger for Kya Zoonga and also lets his friends know that he has purchased the ticket. It is all the more interesting for fans to know of celebrities buying the tickets.
How has this alliance reinforced brand Kya Zoonga? Being appointed by an international body which runs international ticket is a proud moment. This has put us on the international map. This further allows us to explore international opportunities and qualifies us at the world stage. We can now boast of ourselves as world class players.
What's Neetu's message for small businesses who want to grow big in a short span of time? My mantra is to keep to your idea, believe in your business model and stick to it. Also it is important to build a team around you, that you can rely on for all your endeavors.