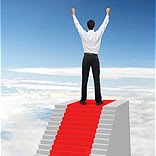 No matter how green and rich the prospects of being an entrepreneur may appear, but one thing that can't be kept at bay is the fact that- grass on the other side of the bridge always looks greener. The same goes for those who are tied in tandem, and are still evaluating which one to choose.
A professional career, guarantees you a fixed remunerations, no working capital woes, listed holidays, almost fixed working hours and moreover a predetermined job profile. There is no confusion, no ambiguity and no emotional baggage (again seeing it from a pseudo realistic perspective). Crossing over to other side (which seems greener), the entrepreneur comes forward as the king of his own fort. Being an entrepreneur, you are always the boss, and as we have learnt 'the boss is always right!'
 The automatic consequence is that you are in charge and responsible for every direct or indirect consequence of your actions as well as those of your subordinates and colleagues. Now this can get scarier, and you'll be able to judge it better as you go deeper into the business trail…
Money matters
Sameer Sikka, Director, Xnatuate, which is an HR consultancy firm, speaks out about entrepreneurs as a breed of its own kind. "Their aspiration values are on a different pedestal, though most of the entrepreneurs are regarded for the wealth they generate or moreover the money they are constantly chasing. But this in reality is not what they crave for, a true entrepreneur derives his thrill from being the creator," says Sikka, as he candidly speaks about an entrepreneurs intrinsic abilities.
But this does not take away the fact that, majority of the entrepreneur's time goes in dealing with funds, creating supplies for the working capital, and trying to get his business on the economy of scales platform.
Emotional support
Once you have succeeded at your attempt of being an entrepreneur, and you now stand at the helm of affairs, you will be highly regarded by all. But it is the path leading to the throne that is most lonesome. Threading this path alone is emotionally very consuming. Most people who plan to venture out on their own are met with massive criticism and dejection in the field as well as on the family front, in the initial stages. Kanwal Rekhi , Managing Partner in Inventus Capital, puts it this hard reality out, "Your mother will be the first to criticize your idea in the initial stage and the also the first to get on your side if you meet success. So starting out on your own guarantees you a lonely and struggling initiation period."
Time tied  
As the entrepreneur is always at the helm of affairs, he can't put his proficiency in a water tight compartment, and work only for a designated area/department. His task includes all the working departments, and his involvement is crucial to setting up the structure. This automatically takes his youth away, because by the time the business settles at growth inertia, middle age is knocking at the door. Kanwal regards the startup entrepreneurs as socially the most boring people, "You will miss out hanging out with friends, and meeting them on weekends, and will be branded as a boring person. But what people might not realise at the initial stage is that you are chasing a much higher target in life."
Learning from failure
No entrepreneur has ever had a joy ride at his affairs. There have been stumbling blocks, failures, mistakes, and all this put together from the much spoken about guts of an entrepreneur. He needs to have the ability to get up, and get started after very fall. Managing a business or starting something new is not for the frail hearted, there are more dips than there are highs. There are many stakeholders that are involved in creating a successful business formula. Sameer believes, "A successful venture, i.e. when we are counting the long term aggregate is driven by the entrepreneur's passionate belief in an idea, and is fuelled by a team who subscribe into that idea, and remain bought into that idea for a sustained period, till that idea becomes reality. It may face many failures, but constant belief and the ability to continually re-generate that belief is what truly drives success."
It's like baking a pie
Fundamental to a business venture, is the ability of the entrepreneur to dream, and to paint a vivid picture of that dream, this dream is the magnet that draws people in.  Entrepreneurship is like baking a pie, the task is tedious and messy, and you might not get it right in the first go. Practice will make you perfect, and moreover, you can bake the pie and have it too- success always tastes good. And if you don't get through the final product- you can work on it again!