Public relations, a sunrise segment to venture into
As per an ASSOCHAM report, the demand for Public Relations services has grown sharply from 22 per cent to 32 per cent. With rising media dominance and clamour for eyeballs, the industry is expected to grow further to more than US$ 6 billion by this year e
Tags: public relations
BY Arindam Ghosh | Sep 16, 2010 comments ( 3 ) |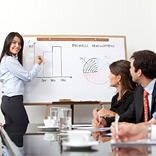 According to a report brought out by the industry body ASSOCHAM on the PR industry in India, the demand for public relations(PR) services has grown sharply from 22-25% to 32% and is expected to grow further. The PR industry size is expected to grow to more than US $6 billion by 2010. Business is booming for the public-relations (PR) industry and it offers a lot of scope.
Public relations agencies in India are gaining huge importance because of the strong media presence in the country and PR firms work out new plans and strategies to bring their clients under the lime light and give them the required hype under a positive light.
Services Offered by PR Agencies
Public Relations (PR) firms are one of the vital parties which play an important role towards creating the awareness buzz in the market. By generating an effective mode of publicity through various forms like media, conferences, seminars and other events, these agencies fuel the expansion of business operations for companies.
In recent times, PR companies and agencies have created for themselves an important place for carrying forward the message of today's entrepreneurs who are active in the society and always have a desire to communicate with the media, customers and various other influential parties who can play a strong role in expanding the business reach of the venture. They constantly engage themselves in promotional activities and services of the client.
Recent trends
Commenting on the recent trends the PR sector has witnessed, Tanya Bajpai, Director, Chhavi Public Relations, which is working for companies like Metro Tyres, Haldiram Foods and Kanatal Resort and Spa says, "The current decade is a period that will spell change for the Public Relations profession, and this is now being witnessed in India. It is no longer just the sweet-talking 'spin doctors' who can achieve results. Investors are getting smarter and more sophisticated. They need a new breed of professionals to tackle their needs."
Why businesses need PR agencies?
It is extremely important for an enterprise to improve their market standing and this is what a PR agency helps them in doing. They provide creative marketing strategies and various branding services and solutions that play a key role in accelerating the business motives and at the same time expand the business operation of their respective clients. "PR offers various specialized services to its clients like communication strategy, media relations, content development, media strategy, crisis communication, media training, media monitoring, investor relations, online reputation management, brand launch and image building, among others", says Pooja Chaudhri, Executive Director, Zzebra Public Relations Ltd.
With respect to small businesses, a PR agency is a cost effective solution when it is planning to enter into any market as these agencies already have technical know-how about carrying forward the message of the client in order to have maximum reach. They save a lot of time and money in conducting market research and studies say, what are the various goods and services in demand, consumer needs and preferences, etc.
The PR Edge for Businesses
PR companies sometimes posses a unique ability to make the company and its products into such an idea that may generate curiosity among the media, the customers and other concerned agencies and parties through various plans and strategies to generate publicity. It tries and highlights the product and services of their client in a manner that is able to generate considerable media coverage and developing general public awareness and understanding. It recommends various corporate communication solutions that benefit their clients.
Requirements for setting up a PR agency
Technically, anybody can start a PR agency. "Like any other professional services business, one needs to go about all the legalities involved in setting up a company and getting the required statutory documentation in order vis-à-vis bank account, service tax no, pan no, etc. Depending upon the number of people working with you, you would need an adequate office space, or you could even choose to work from home and later expand as the business grows," says Pooja Chaudh ari.
Special skills sets required to start a PR agency
A career in PR is not as much about qualifications as it is about knowledge, soft skills and presentation. Tanya Bajpai from Chhavi Public Relations underlines seven skills to jumpstart your PR career – Soft Skils (which includes a liking for meeting people from different walks of life, an extrovert nature, the ability to absorb information about various topics and good organizing skills, a flair for writing, crazy working hours, willingness to travel, well-groomed, traits to maintain contacts and flexibility.
Specialized courses and degrees in PR and mass communication and journalism would help equip you with the desired skills to kick start your venture.
Interestingly, Mr. Nitin Mantri Chief Executive Officer and Business Partner of Avian Media points that usually PR agencies are opened by those professionals who already have an experience of working in this industry. It is primarily a relationship driven and communication based sector.
Success Mantras in PR Business
An important determinant of success in the PR business is hiring of talented and enthusiastic employees. Most important is the cost of getting on board good talent which alone determines the success and growth of the business. The right talent can multi-task also till the business grows itself and stabilizes, after which one can think of growing the team size. "A PR company in India spends up to 35% - 40% on hiring quality manpower, adds Mr. Nitin Mantri of Avian Media whose clients include Porsche, PVR Cinemas, Airbus and Yatra to name a few.
Secondly, one must focus on the quality of business service provided to clients. If the service is good then existing clients spread the good word about your good service and speak about it in their business circles, making themselves your biggest brand ambassadors", says Pooja Chaudhri.
Business or revenue model
Pooja Chaudhri says, "For every client that the agency signs on, there is a particular job that has been agreed upon between the client and the management, which needs to get fulfilled. For this task, there is a professional fee that is decided which is the revenue that keeps the machinery going. From here on, it is about maintaining a healthy cash flow and keeping your income and expenses under check. Broadly there would be two types of clients – one which pays you a retainer fee every month for a pre-determined number of services and the other would be which works on a project basis for a fixed period of time which would usually range from handling a single assignment like a press conference to a three-month long event."
How to Bag clients
"Initially clients generally come in through referrals from people that you know or have worked with earlier. More often, existing clients spread the good word about your good service and speak about it in their business circles, making themselves your biggest brand ambassadors. In other cases, a client looking for an agency or intending to change their existing agency calls various PR firms to pitch for the business. In this case, the client sends a brief about the services they require and the PR firm needs to make a presentation as per the client's job requirement, and work hard towards winning the business in the face of stiff competition from other agencies that have also been called for the pitch", says Pooja Chaudhri of Zzebra Public Relations Ltd, which handles work of technology firms like Wipro, real estate majors like DB Realty, Oberoi Group, and ABIL Group, national tourism organization South African Tourism, investment bank Lazard, and auto major TVS Motors, to name just a few.
Mr. Nitin Mantri concludes, "PR is all about making perception and image building of the company".
Please add your comment
Rajan
May 30, 2011 at 12:41 am
good input on industry,interesting
Reply |
avs ramakrishna
October 03, 2010 at 4:27 am
simply superb
Reply |
sanjay arora
September 19, 2010 at 4:28 am
good article
Reply |