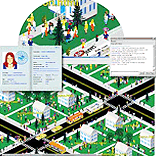 Have you ever found it embarrassing asking your visitors enter their names in shabby notebooks? Or have you ever waited for long at the reception even for a pre-scheduled meeting just because the person you were to meet was not at his/her seat? Bhartiya Global Infomedia Ltd. (BGIL) has come up with a solution for your problem - a Visitor Management System (VMS).
BGIL's VMS is more than just scratching a name on a card. The system has been designed to ensure proper security, streamlining the visitor check-in process, printing the visitor badges and tracking visitor movement in the organisation. When a visitor comes, his/her details or that of the pre-scheduled appointment with him/her is entered, the system automatically informs the concerned person through a mail or SMS which means he will come to know of an arrival even if he is not at desk. This saves the time of the visitor preventing unwelcoming attitude in case of him being crucial (a customer). The software also prints the visitors' pass.
The product is especially useful for SMBs because it complements their security system shedding the need to employ too many security persons. Being indigenously designed, BGIL's VMS can be customized according to the requirements of the small and medium business enterprises. You can do away with the features that you don't need and pay only for the ones that get incorporated. This makes the product cost-effective.
Apart from the features enabling security and quick clearance of visitors owing to pre-authentication, the VMS also creates a watch list of visitors who should be denied access in the organization. It also helps in creating report structures by making a note of visitor traffic and the employee who is most popular among visitors.
You don't have to shell out too many currency notes. The cost of the product may range anywhere from 20,000 (only the software) to 1.25 lakhs (software + hardware together). The cost also depend also the number of features you get incorporated.
BGIL distributes the product in two ways, directly through themselves and through their selling partners which are Wipro, Honeywell and HCL. It is available in all the stores of these companies and can be obtained from the BGIL office as well.