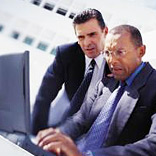 To most of us technology sounds Greek and what can be better than avoiding something that you do not understand. But when you are an entrepreneur it is not about you but your business and your business needs technology. With advantages like cost effectiveness, becoming transparent, getting rid of paper and benefits in scaling up, the use of technology cannot be ignored. 
Rakhee Nagpal, MD DVS, a market leader in India providing end-to-end, integrated software solutions to the retail and hospitality industries says, "The purpose of an entrepreneur is to excel in his business venture. One can excel only with efficiency and technology helps bring in efficiency." But this in no way means that you need to be a tech wizard. Rakhee further adds, "An entrepreneur's job is to understand and analyze their business and its needs and then to find the right technology partner to provide the required solutions.
Mentioned below are 5 things to keep in mind when you go about choosing the right vendor for your business:
1.     Identify your IT needs
When you are looking to upgrade your business or facilitate your business with technology, don't think technology first. The right way to start is to analyse and understand your business. Which are the functions and processes which you would like to automate and which not, which are the systems which you like to make more efficient and likes. When you are clear about your technology needs, then you can go about looking for right partner or vendor.
2.     Look for somebody who understands your business
Your partner has to be passionate about your business. "Your IT partner must understand your IT needs and for that it is extremely essential for you to understand your business," says Rakhee. "They should be able to simplify your business by integrating various verticals rather than complicating it further."
3.     When to look for a partner
According to Rajesh in the first stage all that a business needs is some computers, internet connection and security. Here an IT partner might not have a major role to play. But once that is done and the entrepreneur plans to expand his business in terms of scale or area of operation then it is necessary to have the technological support to keep track of the business. This can be done only with the help of an IT expert.
4.     Think futuristic
"One must have an idea of number of stores or offices that one might have in the next 4-5 years. Keeping that in mind one should select a partner who can stay with you for at least 5 years," says Rajesh.
5.     Look for partners who can provide customized solutions
Rakhee says that an IT partner must have the knowledge of local laws and taxes so that they can provide you with some backend support as well. At the same time the technological solution provided by your vendor must be localised or customized to suit the needs of your business.