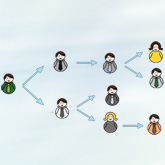 As a marketer you can learn the art of getting into the mind of your consumer and staying there from viruses.
Viruses find a way into the host under the guise of another; they spread rapidly and grow exponentially. If you can employ this viral strategy to your marketing initiative, no one can stop you from growing.
What is viral marketing?
Viral marketing is a marketing technique, which uses pre-existing social network to spread a marketing message, creating the scope for exponential growth by the exposure of the message.  In a layman's term it is buzz marketing or word-of-mouth spread online.
The classic example
Not that there are no other examples of viral marketing but the Hotmail, Microsoft's free web-based email service, is a classic example.
By adding a simple message to the footer of every email sent out by Hotmail users Hotmail rapidly gained widespread brand awareness amongst Internet users. The message spread like a virus and people signed up like crazy, taking the number of Hotmail users to millions. The cost incurred per subscriber was very-very low.
This viral marketing was a key factor in Hotmail becoming the market leader despite significant expenditure on conventional marketing methods by rival services.
An example of viral marketing in India can be Monster India or Naukri. Through their resume writing service they acted as a guide to their users and entered their minds unconsciously.
An important feature
Viral marketing concentrates on brand awareness. It does not recommend a specific product or service.
How is it useful for SMEs?
Viral marketing
Incurs low cost
Involves low risk
Has potential to produce quick result
These features are exactly what small and medium businesses want?
How to do it
Through Social Networking Sites – Haven't your predecessors told you that you are blessed to be born in the age of the Internet? Sharing message is the key purpose of users of social networking sites. Use at your pre-existing resource. Create a fan page, a community or a group; connect with those, who you think will be interested in the buzz.
Videos – The power of videos in another resource you can exploit. Interesting; humourous or controversial; videos are shared like anything and thus spread like wild fire.
Content – Useful content for the industry that you operate in will attract readership and thus spread your buzz. It will be passed on generously and spread awareness about your company.
Points to take care of
Select a TG; let them spread the message– This depends on who will be interested in your product or service. Not just that but also the media and other opinion leaders. Local users are also important if the buss is specific to a geographical area.
Your viral efforts will be successful only if your TG group spreads it and not you. People should be convinced that no one is masterminding the effort. Options like 'Send to a friend' or 'Forward' are easy and popular ways to do so.
Study the information flow – How do your customers get information? Whose opinion do they trust? Which medium do they rely on? Take into account all the aspects related to the flow of information, its direction and every element involved in the process.
Frame your message – It should be clear and concise message, highlighting the benefits of your product or service. If you fail to define the message clearly it might not be effective and might boomerang. Your message should appeal to your audience. The most appealing things are humour, and something that saves time and money.
Tap various channels – A buzz can be created effectively only when it is put through various channels. For example, if online might be the preferred medium, offline should also have the message it shouldn't be completely ignored.
Be prepared for a response – As soon as the buzz spreads your TG will star responding. Delay of any sort in addressing their queries might create a negative buzz. So brace your team up for responding even before you spread the buzz.
Now, all you have to think of is what buzz to spread? Remember, a unique buzz, spread in a unique way can take you to great heights. So why not wear your thinking hat?