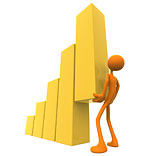 If you are now looking to expand your business, you cannot go ahead without increasing your sales. Most of you would tend to focus primarily on acquiring new customers. In this process, you are actually underestimating the potential of your most valuable sales resource: your existing and past customers. I have outlined a few effective strategies to acquire new customers and also to entice your past customers to come back and buy more.
Make your sales force understand the company's overall goals and objectives
The first step to be taken for a great sales performance is to clearly communicate your company's goals to your sales personnel, right from the supporting staff to managers. Make them understand how their departments's goals are drivers of the overall objectives of the company.
Define and communicate competencies for salespeople
What makes your sales people successful? Define and communicate the skills, competencies, systems and processes which your sales staff must acquire or follow. Make sure that the competencies you are indicating for your sales people are specific and not generic.  
Concentrate on products or services giving you highest leads
You should keep exploring further avenues for generating sales. At the same time keep your efforts concentrated in those areas where you generate maximum leads and maximum revenue. You may also consider shifting resources from your weaker areas and using them for your stronger areas.
Invest in training your staff
The first step in investing in your sales staff is to have a detailed hiring process which helps you profile each person's strengths and weaknesses. Secondly have training programs or workshops in place to train them further to leverage their strengths and improve their weaknesses.     
Set up a creative incentive structure
Sales people need to be given sufficient reasons for achieving targets. Many people are driven to perform to their optimum capacity only if pushed by an incentive. Be creative in designing your incentive structure. The success of your sales team will hinge on more and more people competing for the incentives.
Encourage your sales staff to upsell
If you are running a spa centre, you can persuade your customers to buy spa and beauty products in addition to the other services. This is called upselling. Encourage your staff to sell additional products or services which benefit the customer in addition to the original purchase.
Promote loyalty to your brand
Just as your team needs incentives to perform, similarly customers need rewards to come back to you. Offer discounts for every additional product purchased, a bonus for giving referrals etc. These simple initiatives will help strengthen customer loyalty.
Get Viral Marketing benefits
One way to get viral marketing benefits is to offer something free. This effort will multiply your chances of your customers referring your product to others. You can look around to see 'free trial' or 'free sample' being offered by other businesses. These are the easiest and sure shot ways to get viral marketing benefits.
Prioritize your customers.
While it is important that you value all your customers, yet your best customers should get the best treatment. One way can be remembering their names, recognizing them and greeting them, sending greeting cards on birthdays, anniversaries etc. Though this strategy has been proven to be very successful, yet it should be executed with care. In case other customers get to know about your selective treatment they may feel discriminated and will turn away.