Solving Conflicts
Conflict solving is very important for smooth running of a business, high performance and general harmony
BY Entrepreneur | Apr 07, 2011 comments ( 0 ) |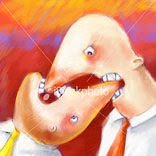 Conflicts often rear their ugly heads in organisations. The sooner one gets over it and moves on, the better, but what happens if some egoists decide to stretch it beyond resolve. Unsolved conflicts not only hamper progress towards goal, but also create negativity in the environment.

Generally, we are aware there is some disagreement between two or more parties involved in the conflict. But the true disagreement versus the alleged disagreement may be quite different from one another. In fact, conflict tends to be accompanied by significant levels of misunderstanding that exaggerate the alleged disagreement considerably.

Also, there are often disparities in our sense of who is involved in the conflict. Sometimes, people are surprised to learn they are a party to the conflict, while at other times they learn that they are not included in the disagreement. On many occasions, other people who are part of the organisation e.g., are influenced to participate in the dispute, whether they would personally define the situation in that way or not. In the above example, people very readily "take sides" based upon current perceptions of the issues, past issues and relationships, roles within the organization, and other factors. The parties involved can become an intangible concept to define.

People react to the perceived threat, rather than the true threat, facing them. Thus, while perception doesn't become reality, people's behaviours, feelings and ongoing responses become modified by that evolving sense of the threat they confront. If we can work to understand the true threat (issues) and develop strategies (solutions) that manage it (agreement), we are acting constructively to manage the conflict.

Solutions for difficult behaviours
Establish emotional boundaries (standards of behaviour)
Consider your response to rights vs. needs vs. wants
Develop respectful responses to disrespectful behaviour
Listen with respect and respond with care
Stick to issues and behaviours
Keep fitting – words, tone actions
Speak from the "same side of the table"
Build your credibility with your language and actions
Refuse the win-lose perspective
Keep a confident posture

Lastly, listen with care. A common cause of conflict is that we don't listen carefully enough – to content or to emotions.

To move on your teams to the power of extraordinary high performance team, negative behaviours that are blocking achievement should be removed. Daily annoyances, petty grievances, situational stress, the curve balls of project goals, grudges, and personal betrayals are just a few of the areas that benefit from a sincere conflict resolve.