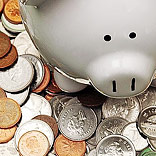 Have you started your business recently and often been advised to keep your personal and business-finances separate?
Most of the small businesses stem out of the personal savings of entrepreneurs. Even most of the business expenses, in the initial years, are met with the same. Once a business grows up to a certain level, the entrepreneur tends to utilise the business-finance for personal excursions like a vacation or a shopping spree.
This is a universal problem and every entrepreneur is advised to stay away from the practice when he/she is starting his/her business; but a very few learn without burning their fingers.
Here are five reasons why you should keep your personal and business-finances separate, no matter how tempting it is to mix them up:
Help you avail of tax Benefit: There are various tax benefits that you can enjoy as an entrepreneur, which will get affected if your personal and business expenditures are not clearly defined. "I have seen entrepreneurs losing track of their personal and professional expenditure as a result of intermixture. It's a nightmare," says Kartik Varma, Co-Founder, iTrust who is a financial adviser to numerous entrepreneurs and is also an entrepreneur himself.
Cleaner way to obtain venture capital in future: If you need money and plan to raise money or avail of loan/venture capital you must have a clean book. A clean book gives you a better audit trail so the venture capitalist will not be apprehensive about providing you financial aid. Nothing scares a venture capitalist more than an account book that is in a mess. Investors/ lendors will hesitate to help you if you have a messy account, so be careful.
Makes you more professional: You and your business should be two different identities in order for your business to be taken seriously. In case you are working with a partner this is all the more important.
Saves business from ongoing personal expenses: "Usually personal needs are so compelling, for instance a surgery in the family or a child's admission, that one is not able to resist oneself from meeting the need with the business-finance, especially when both the finances are already mixed," says Varma. Most people think that they will put the money back into their business once they have enough but such a situation never comes considering personal needs never end.
Helps in growing your business: Venture capitalist, Kiran Nanadkarni says, "Maintaining the account books clean will help you in keeping your costs under control. There are a numerous things that an entrepreneur has to focus on, so demarcating the personal and business expenditure will reduce the burden."