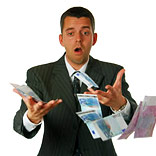 Entrepreneurship has never been an easy path to tread on as it demands a lot of risk taking abilities, and innumerable responsibilities. Starters make it harder for themselves by making some basic mistakes regarding their personal finances. Here is a quick guide on what should and should not be done.
Stay away from loans!
A general practice among entrepreneurs, when all doors get closed, is to go for personal loan through credit cards or property to fund their businesses. This approach involves high risk as it has the potential to expose your monetary vulnerability and lead to financial distress. Try as much as possible, to bootstrap your business through savings, or using money that is not going to put you into any financial liability. Mr Pranay Gupta, Jt CEO at Centre for Innovation, Incubation & Entrepreneurship (CIIE), IIM-A says, "When taking personal finance via credit card or bank be very clear in understanding what the bank is offering and what they expect."
Know your budget
A common mistake by entrepreneurs is to underestimate the capital needed at the early stage of the business for basic things like travel, communication, and demos etc. This results in utilizing your savings well before the actual investment is to happen with the help of other potential investors. Therefore, you might be forced to make rash decisions like taking a high cost personal loan to bridge the gap. Mr Krishna Tanuku, ED, WCED, ISB says, "Understand what your personal capacity is to supply cash to the business and if you think you do not have sufficient funds of your own, consider bringing on a co-founder who can supply additional capital in addition to complementing your skills."
Identify your liabilities
A huge mistake by entrepreneurs is to mix up their personal finance with the company finance. One needs to keep them separately. If they are using personal money for business expenses they should treat it as a loan in the accounts book, which should be repaid with interest if required. This helps in creating a clear demarcation between the two and in identifying your liabilities.
Financial Planning
You should maintain a record to keep tabs on your cash flow, which is vital for your business. The basic key to good cash management for any business is 'Planning & Monitoring'. A good idea is to do a monthly planning at the beginning; monitor and analyse the plan on a weekly basis. "Plan and fix your targets and you will surely never go wrong in your calculations and suffer credit crunch. Big names like Henry Ford, Donald Trump and Amitabh Bachchan collapsed due to bad cash management," says Rahul Jain, CEO, Business Coaching India.
Avoid help from friends and family
Asking for help in terms of money or guarantee from relatives or friends should be your last option. If you have no option but to go to them then you should make everything crystal clear and commit a feasible date when you can return back their money with interest. You can also offer them equity but make them understand that an early stage venture is risky and they could lose their entire investment in case things do not work and in no circumstances should you assume any personal liability. Mr Tejpavan Gandhok, CEO, Lite Bite Foods Pvt. Ltd says, "When taking monetary help from friends or relatives, you should treat is as a business transaction and not a favour."