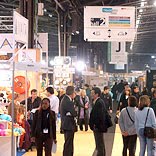 When a brand comes with a new product, the first thing that comes to the mind is what mode of communication should be adopted to promote it among customers, clients and masses. Some will say, it is advertising that will work for them, while others may prefer a celebrity to endorse your brand so that the product is visible to a far extent? Anything can definitely work, no doubt about that, but what exactly the brand wants, is something only and only the brand owners can deem relevant. Trade Fairs can be one of the solutions to their problems, as it has success written all over it, from all aspects. These portray the course in which the market is heading for the time being, they bring executives from the supply and demand areas of an industry together on the same dais for a limited interlude, thus giving participants comprehensive market information and also serve as a platform for business contacts.
These are the perfect means to gauge performances of different markets and understand their means of functioning, which guides them in attracting distributors to come into agreement with them, testing customer's reaction, to know the current standing of competitors in the segment.
For companies, trade fairs of such magnitude provide them with the platform to enter a new market. Not only, are these the perfect venue for marketing your products directly to the customers, they also enable to make an impressive first impression.
The mindset of companies in the country with regards to trade fairs is still at a miniature state, but they need to understand that, the kind of exposure and rapport they get to create, enhance the goodwill of the brand as well as help in promoting products, which in general are not visible in the market. "Trade Fairs are the best platforms for networking and selling to a larger audience, who come from all over India as well as abroad. I make around Rs. 30,000 in one day, by selling my books every year in the fair at Pragati Maidan. So I wait eagerly for the fair", Mr. Akash Jain, Proprietor Colourful Books says.
Trade Fairs are the most cost-effective means to communicate with businesses, customers, vendors, suppliers etc. One must also understand that visitors who attend trade shows are either consumers or businesses owners who go to trade fairs with the sole purpose to make contact with a consumer looking to do business in the future.
Trade fairs are perfect grounds to reach prospects, for face to face interaction, product introduction, gathering leads, building relationships, evaluating competitors, seeking media attention, market research etc. The other incentive that one gets out of these fairs is the mode of sessions which are mostly interactive encouraging representatives from different verticals to unite, where one gets the opportunity to speak freely with other business players and compare notes about the industrial sector one is working in, he/ she can come back and make the adjustments in the product line and their respective prices.
Trade Fairs attract the kind of media coverage that can work in your favour. So if you still missing out on opportunity to grow big, then it's time you went trade (fair) trotting.