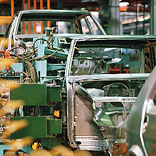 A penny saved is a penny earned. Every entrepreneur is well versed with this adage. But when it comes to applying the same to his/her business, the task becomes difficult. In today's cut-throat competition any kind of waste in a business can be detrimental to its growth. Are you paying enough attention to minimise waste? If not yet, consider the concept of lean manufacturing. This concept helps in not just optimising the resources behind manufacturing but also in empowering the workers to achieve employee satisfaction.
The concept is no rocket science and is completely feasible for small businesses. In simpler words, the concept lets you focus on getting the right things to the right place at the right time in the right quantity to facilitate perfect work flow, hence minimising waste and enabling a flexible business set-up.
What is lean manufacturing?
Lean manufacturing is a management-cum-production strategy, which helps in optimising the resources involved in, manufacturing a product or providing a service, thereby, producing the highest quality at the lowest possible cost. It involves identifying and eliminating non-productive, non-valuable activities in a supply chain, design, which helps in reducing inventories, labour and lengthy processes to reduce time and money. Large inventories are seen as a type of waste that carries with it a high cost. Overall it is about reducing the response time, without compromising on quality and safety at workplace. Mr Amol Mate, Director, Business Development, UMAS Pvt. Ltd. says, "Lean manufacturing is a simple philosophy or concept of how to increase labour productivity and reduce response time. It aims at minimising the amount of resources used behind the making of a product or providing a service."
The concept also involves empowering workers and making production decisions at the lowest level possible.
Advantages
Lean manufacturing strategies have saved not only money and time but also produced excellent products and services. Many companies have realised its capability of producing high quality products more economically, even at lower volumes with using half the time and space.
Advantages include lower lead times, reduced set-up times, lower equipment expense, and increased profits. It gives the manufacturer an edge by reducing working capital, increasing quality and by allowing the manufacturer to be more responsive to customer demands. According to Mr Mate, "Implementing lean system leads to single biggest advantage of customer satisfaction, thereby, increase in customer base."
Setting an example
UMAS Pvt Ltd has been one such organisation which has not only been practicing lean strategies but also providing world class lean solutions to various companies' especially small and medium enterprises (SMEs). UMAS uses a technique called MOST- Maynard Operation Sequence Technique. It is a work-measurement technique, which identifies the actual work time for manufacturing or service process. It starts with detailed value stream mapping where all the value and non-value adding elements in production and back-end operations are identified. Then it goes in detail of each activity and suggests changes to reduce/eliminate non-valuable elements. The remaining value-adding elements are scanned for their cycle time and content. Finally, time-analysis by each valuable activity is done to minimise their response time. On the whole, this helps in optimising the resources to get the highest quality at lowest possible cost.
Empowering Employees
Implementing lean manufacturing strategies not only enhances production processes and profits but makes the entire work mechanism more organised. The objectives of lean manufacturing are achieved through the human resources of the company, using the machinery as tools to meet the desired targets.
One big advantage for workers in a lean manufacturing system is that they become a major part of the company's decision making process because to improve operations and prevent wastage, employees are actively encouraged in making suggestions and taking action. Therefore, such level of involvement helps to improve morale and employee performance. Another big advantage comes from using the 'Working Cell concept,' which refers to workers being trained in several tasks, making the system more flexible. It gives the worker more freedom and responsibility. On the whole, in a lean manufacturing system no one piece is above the other as every individual has his/her own specialised role. Mr Mate says, "It helps in making labourers multi-skilled professionals, which increases their self-confidence and motivation. With this they get more value and respect within and outside the organisation and the employee feels satisfied."
Suitable for small/medium businesses
Lean manufacturing as a concept can be applied to any industry both large-scale and small-scale, ranging from manufacturing units to service organisations. "Our consultancy business has diversified clients ranging from auto companies to mills, hotels, media houses, printing press, hospitals and many more." says, Mr Mate.
In fact, lean is primarily beneficial for small businesses which regularly face financial and resource crunch. An ideal solution for SMEs because it helps in reducing input costs, making labour more efficient and reducing entire process time, thereby increasing revenues, expanding customer base. Mr Mate says, "Lean system for SMEs means reduced dependency on high capital investments and lesser need for additional credit and going to financial institutions."