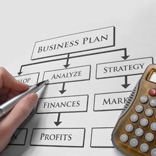 One of the toughest processes for any business is, expansion. One time or another you have to face it so it is better to be prepared with a strategy for a smooth expansion. Expansions, if done in a quick, unplanned or uncontrolled way can land you in high-risk situations such as drying up of your cash flow or customer satisfaction taking a beating. However as every business has a different set of challenges to meet so there can be no generic rules for expansion. Yet some important things can be kept in mind to walk smoothly through the expansion phase.
Plan it right
The first step in charting out your expansion road map is to check if you are ready for it and come out with a game plan. Unless you follow a proper plan you are most likely to get lost and lose focus, thus making mistakes that can prove very costly for your business. Ask yourself the following questions:
• What is the real demand for your product or service right now? What is the projected demand for them over the next two to five years?
• How big do you need to grow in order to meet that demand?
• How will changing competitor activity affect your business over the next two to five years?
• What should your excess capacity for unusual demands be?
• How many additional staff will be needed and when should they best be employed?
• What's the best way to phase in the expansion so cash flow isn't compromised?
• Where can you achieve economies of scale? In other words where will expanding capacity reduce the cost of sales?
Expanding will require you go around buying property, plant and equipment, office furniture etc. Go around finding out where you can get the best deal: best price for the best quality. This requires quite an effort but will certainly pay off.
Judge your expansion capacity
One of the biggest cautions to be exercised while expanding is 'not to over expand.' The business owner must carefully understand the needs of the business and his financial capacity and then carry out the expansion in a phased manner. Base your expansion on a five year projection of demand and allow an additional 10% over and above that to make for periods of unprojected demand hike or slump. Expanding more than this can result in an escalating overhead expenditure which can be difficult to cope. Moreover remember that you cannot account for each and every eventuality during the expansion phase.
Treat the expansion like a project
After you have planned the expansion, it is equally important to execute it in a formal way like a project. Draw up a project management schedule, identifying the key deliverables and attach dates to these deliverables. Identify key responsibilities for each department and set up a regular review schedule. Also have in place procedures for managing non-delivery on any part of the project.
Keep your customers informed
Before you commence your 'project-expansion', you should inform your customers about the plan and also the expected completion date. They should be made aware of all possible disruptions in your daily business and how you plan to deal with them. They should know what to expect from it. Expansion can cause disruptions in your daily business so the customers should be informed of any such changes and also how you will deal with them. Convince them that you have utmost regard for their interests and the process will ultimately benefit them.
Time to Celebrate
The completion of your business expansion project is a great occasion to celebrate. It is also a great marketing opportunity for your business. Chart out a special marketing drive, send out media releases to local and regional press Make a formal announcement in a planned occasion and send mailers to your existing and potential customers. Develop a special marketing drive to announce the occasion and send out media releases, especially to the local and regional press.