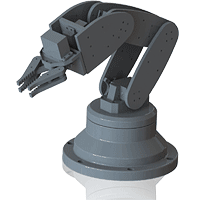 Indian SMEs have now realised the need of robotics equipment in manufacturing. There has been an increase in the number of entrepreneurs adopting robotics techniques.Not only big players, small robotics start-ups and companies are also targeting the SME sector in India.
According to the International Federation of Robotics, in 2011, robotics' sales in India were 1,547 units and are expected to reach about 4,000 units a year until 2015. The main applications of robots in India are welding, handling and dispensing. Hence, it is likely that more than 70 per cent of the robot sales ended up in the automotive industry. The Indian logistics, e-commerce and manufacturing industries have too joined the fray on using robotics.
Hyderabad-based Jay Robotix Pvt Ltd, Ahmedabad-based Gridbots Technologies and many other robotics companies have focused on the SME segment of the Indian industry for selling their robots.
As per the Industrial robotics marker research report, the global market for industrial robotics is estimated to be $ 25.71 billion in 2012 and expected to reach $ 32.8 billion in 2017 at a CAGR of 5 per cent from 2012 to 2017. The Indian robotics industry is approximately $750 million and is expected to double over the next three-four years.
Indian industry has now started accepting industrial robots for increasing production and improving quality and in areas where the process is humanly challenging like handling of hazardous or heavy material.
SME Segment: New Market for Robotics
Earlier the large companies like Maruti and Hero took the help of robotics but robotics companies have now targeted the SME sector of India. The new market for selling of robotics has emerged because the prices at which these are offered are also very low compared to the products offered by international players. These robotics arms and equipment can easily be introduced by SME companies.
Sudhir Reddy, Managing Director, Jay Robotix Pvt Ltd, says, "The products by the international players are much costlier. We offer the same quality at a much lower price to fit the pocket of Indian SMEs. We have received good response from SMEs so far."
While researching on the Indian industrial market, the robotics companies felt that is the high time for them to enter the SME sector and introduce the low-cost robotics and small equipment in order to compete with the international players.
"We knew that there are only big international companies that sell robotics in the SME sector. We decided that now we should help SMEs in India through robotics," says, Vijata Khandelwal, Co-Founder, Gridbots Technologies Pvt Ltd.
Several Problems, Single Solution
Robotics not only reduces the cost of production, but also prove to be time saving for SMEs. The robotics work for more time as compared to labour, and thus it increases the productivity of the company.
"In FMCG industries, sorting and packaging the products in masses with minimal wastage in operation time is the prime focus. Robotics will directly increase the productivity with the same infrastructure setup and in-turn will reduce the cost of the product," says Reddy.
Robotics have now made it easy for entrepreneur in their business as most of the entrepreneurs are facing the problem of scarcity of labour in their business and it results into a decline in production. In May and June, entrepreneurs usually face the problem of scarcity of labour due to warm temperature but robots have been the best thing that helped them to get rid of this problem.
"The manpower problem is the biggest problem that entrepreneur face these days. Robotics work for more hours as compared to the human work and it also improves the quality of the product," says Khandelwal.
Saving Companies
Sai Surface Coatings, a company specialised in Zinc Nickel Electroplating, is using robotics technology of RoboRuka and has found it extremely versatile and durable, requiring low maintenance. The multiple applications include robotic assembly, robotic coating, plasma cutting and welding.
Meka Nageshwara Rao, CEO, Sai Surface Coating Technologies, says, "Because of serious scarcity of skilled manpower, there was non-consistent welding operations. After using RoboRuka, we achieved a consistent welding sequence working 24x7 and also the machining iteration cost and time has drastically come down. This has tremendously improved production and has contributed immensely to the savings component. "
TI Cycles, a cycle and cycle parts making company of Murugappa group, suffered acute shortage of welders in May and June every year. In April 2010, TI Cycles started using industrial robotics. The labour worked for two shifts only there, but robots were used in three shifts. Also, one robot did the job of many welders with greater efficiency.
Cost Efficient
Traditionally, companies feel robotics are costly to use, as it requires high maintenance and are not affordable to small scale industries in India. As opposed to this, these companies have designed extremely cost effective and ideal for SMEs in India.
"The concept of introducing small industrial robotics was called with the basic motive of cost efficiency. We sought up robotics in a wide range from small to big sizes and less cost, "says Khandelwal.
While Sudhir says, "Our product has been completely made keeping in mind the cost factor for SMEs. It is not only cheap for SMEs, but also has very less maintenance cost in a year."
The Indian robotics industry is expected to grow at a larger rate as SMEs have started adopting robotics equipment in the business. It not only solves the problem of labour shortage but also helps in improving the quality of production