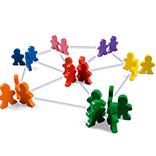 You already know, how important networking is for your business. It might not help you in making direct money but can help you in being informed on various issues concerning business and your industry, which in return helps in growing your business. From finding customers, forming joint ventures to learning from one another, it helps in multi-directional growth of your business. However, the question is how to go about it? Well, here are some tips on how and where to network:
Attending conferences, seminars and other events – Attending a conference is an opportunity to meet other people, who are in the similar industry and also those in the supporting industries.
Exchanging business cards – This might seem like a traditional practice but it is more effective than many other practices. A person of importance to your business might meet numerous people and might not remember you at the end of the day. Your business card will serve as a reminder to him/her.
Social networking sites – The advantage of being an entrepreneur in this century is the availability of various modes of communication and networking facilities and their extensive usage in the community. When the resources are available why not employ them and use them to your advantage. They do not even cost much.
Get a grip on gossip – Gossip does not necessarily mean talking mean things about a third person but also striking a conversation and keeping it up. The first impression is very important. Within the first few seconds, people form an opinion about you. Once the first impression is made, it is virtually irreversible. And so it is extremely important for this first expression to be positive and long lasting. This can be done by striking a conversation which leaves an impression on the other person.
Organising events – Organising events help people remember you. It also accelerates the process of networking. On being an organiser you gain the reputation of an established and seasoned member of the industry, which thereby increases your credentials.
We leave you with these tips which will help you grow your network and business. Try them out!
Our previous article on importance of networking http://sme.franchiseindia.com/article.php?title=Do+you+network%3F