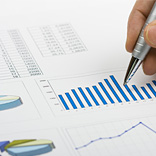 During the early 1980s, Xerox found itself increasingly vulnerable to intense competition from the American and Japanese competitors. The company ignored new entrants who were consolidating their positions in the lower-end market, consequently, the profits of Xerox dipped.
Then David T. Kearns took over as the CEO. He discovered that the average manufacturing cost of copiers in Japanese companies was 40-50 per cent that of Xerox. As part of this quality improvement programme, Xerox implemented Benchmarking programme. This included cutting manufacturing cost and setting quality standards like the other efficient manufacturers of copiers. Benchmarking played a major role in pulling Xerox out of trouble in later years.
What is Benchmarking?
According to Mr Suresh Lulla, Founder and Director of the BestPrax Club, the Indian member of the Global Benchmarking Network (GBN), "Benchmarking is the search for industry best practices that lead to superior performance." 
It is a process which identifies the best practices in an industry, both in relation to products and the method of producing and delivering those products. After identifying the best practices, a business owner can understand and evaluate their current position vis-à-vis those best practices and also the means to improve.  This helps an organisation in adapting and implementing outstanding practices in their organisation to achieve superior performances and improving productivity.
Benchmarking helps in getting to know the secret of the best performances in an industry or a similar industry. For example, a pharmaceutical company can collaborate with a chemical company to learn the best practices related to certain processes or distribution of some product. They can then compare and assess their own practices with respect to the best ones' in the industry. This comparison will help them in knowing their weaknesses and help in improving upon those shortcomings.
How to introduce Benchmarking in your organisation?
The process of benchmarking typically can be done in four steps -
Another point that business owners should keep in mind while incorporating benchmarking as a management tool is that benchmarking is an ongoing process. The process to identify and follow the best practices an industry should become integral to the organistaion. Another important point to be kept in mind is that one should also identify their own best-practices and be ready to share them with others.
Advantages of Benchmarking
"Structured benchmarking can put Indian industry on steroids. The greatest beneficiary can be medium-sized companies itching to blast into the global arena. Small enterprises could form geographical clusters for learning, sharing and growing best practices," says Mr Lulla of the BestPrax Club which has helped companies like Aditya Birla Chemicals, ICICI Prudential Life Insurance and Tata Power in introducing benchmarking.
Benchmarking facilitates cross-organisational learning. It is an efficient vehicle for transferring "learning" across organizational boundaries and improving performances.
Another advantage that an organisation can derive from benchmarking is to increase its experience base. The experience of the company with which you collaborate to benchmark also gets added to your experience base and vice versa.
Types of benchmarking
Depending on with whom collaboration has been done benchmarking can be of two types, internal and external.
Internal – Different departments of the same company or business units of the company situated at different locations can be compared for best practices.
Competitive – If comparison is done with the best of the direct competitors. It may involve sharing of sensitive data.