Hiring a consultant?
Hiring a wrong consultant can just be the difference between making or breaking your company. Hire your consultants with care.
BY Entrepreneur | May 21, 2010 comments ( 1 ) |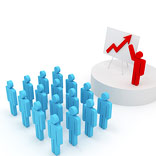 There are many business areas wherein you fall short of the required skills and expertise to handle them efficiently. In fact certain problems can crop up which cannot be handled either by you or anyone else in the company. One option is to employ someone with the required expertise but the requirement may only be temporary. Thus hiring someone fulltime can be very costly and financially unwise. Such problems can be solved by hiring a consultant for a certain period of time giving him the deadline for completion of the project and the relationship can be called off appropriately when the task is completed.
However you need to hire consultants with care and with the same amount of seriousness and effort as in hiring an employee. Hiring the wrong consultant can just be the difference between making or breaking your business and the damage done can be irreparable. So here is how to bring in the right consultant for your business:
Start with a clear assessment of your needs. Which is the area where you need consulting and how much can you afford to pay as consulting fee. There are different types of consultants specialising in diverse areas such as finance, operations, strategy, marketing etc. Larger consultancies like Ernst and Young, PricewaterhouseCoopers, IBM consulting have a wider span of expertise but they can be very costly. On the other hand there are smaller consultancies which may be offering specialized services at a much lesser cost. Make a judicious choice depending on your needs.
Ask for a resume and also some references. Rigorously check the credentials of the consultant through the references provided. Also check whether the consultant is trying to hide some references. These can be valuable sources of information about the quality of his work. Interview more than 1 consultant and involve a few other employees who might have a stake in the hire.
Once you have made the hire, you will be required to work side by side with your consultant for several hours everyday. This is to say that you should be sharing a good chemistry with him otherwise working in tandem would be very difficult. If you think you won't be able to strike a rapport with the consultant, then it is better not to hire him.
Be upfront in asking for a complete fee schedule and also make sure than there is an easy and inexpensive way to end the relationship. Clearly define the scope of work that needs to be achieved and provisions for changes if they are needed. A lawyer can be engaged to draw up the required agreements to protect you. The agreement should provide for ending the relationship in an easy and inexpensive manner .
The most important thing to remember is that if at any time you discover that you have made a bad hire and the consultant is misdirecting your company, act swiftly and send him packing. The future of your company might be at stake.
Please add your comment
Abhijeet Das
May 21, 2010 at 1:27 pm
Great guidance!
Reply |