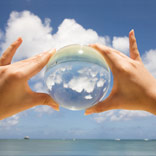 All of us have a vision regarding what we want to be and have in future. Accordingly we work towards them to achieve them. This is not dreaming but visualising our future and working in tandem. Similarly for an entrepreneur it is necessary to have a vision about where he/she wants to take his/her company to, after a certain period of time, say five or ten years down the line. It must be done consciously and systematically. Relying only on the leader's intuition is not always healthy for an organisation. 
Ways on how to nurture your dreams in order to make it a reality.
Vision Work
Starting a business is the most important time to do thorough vision work. It's the time when your enthusiasm is at an all-time high and your idea about what you want to do is pretty much clear and strong. Lack of a strong vision, is like work without meaning, without an underlying sense of purpose. Kiran Nandkarni, CEO, Kaati Zone says, "Having a focused vision for you as an owner/entrepreneur is highly critical for bringing the management team and employees on board."
Guiding Light
The strength of a vision for a team or an organisation lies in its unwavering sense of direction and meaning. A strong, meaningful vision serves as a source of inspiration, place and perspective. It is something that you can return to, over and over again, to check your bearings and sense of commitment.
Optimal Level Performance
Working on the company's vision is very important for any company that wants to function at an optimal level. A meaningful vision statement can provide a healthy challenge to a company or a team. It also serves as a conceptual road map for the future. It is an image of how things can be and provides motivation to continually learn and move ahead. Rahul Mittra, CEO, Brandsmith says, "A meaningful, strong vision statement that appeals to the hearts and minds of everyone involved can carry the group through good and bad times, refreshing its sense of commitment, passion and spirit."
Great leaders become the servant of their dream and the carrier of their vision. The leader's personality can often become subservient to the vision itself and the dream he/she follows.