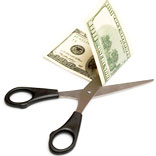 Cost cutting is becoming very relevant in this unpredictable business scenario where global economy is fluctuating. Unfortunately, for many, cost cutting is a harsh word associated with often laying off workforce but in truth, there are many less hurting ways of doing that so read the following and get some ideas.
Categorise business costs
Identify your company's spending pattern and devise ways to cut that. Maintain all bills and receipt record, keep a track on expenses, review all your financials for effective cost cut.
Cut Travelling cost
Go green
Increase productivity
By optimising each employee's time for better capabilities and performance.
Go with virtual contractors for your administrative staff (and other staff if possible).   
You can cut the telephone bills by using FreeConfrenceCall.com or one of the many other free tele-conference services. Switch to VOIP for your phone system.
Move files and storage offsite, remove lobby, if possible, consider having employee's tele commute to save space.
Reduce storage and working capital costs by careful inventory control.
Cut on stationary costs; see the employees don't take them home.
Print Your Own Business Cards
One of the best ways to cut costs is by printing your own business cards. 
Cut time, work fast
Go paperless
Use interns, they come cheap
Review advertising  cost
        i) When you do advertise in publications, include a   coupon to test the responses to your ad.
        ii) Eliminate ineffective advertising cost
        ii) Cut advertising & get social by social networking sites, viral marketing and workshops. 
Diversify business operations
Place current employees in more than one role
Join a trade exchange
Cheap website with wordpress
Smart Marketing Strategy
Get in their Face
Referrals are the best source of strong clients…visit every networking organization in your area (Chambers of Commerce, BNI groups, Rotary, etc.) and introduce yourself, your business, and your quality.  
They are smarter than you
To figure out the less obvious expenses, be sure to involve your employees. Because they are on the front lines every day, they may have a better idea of what can be cut. For example, maybe they've noticed that you have an incoming paper supply that could be reduced.
Use the 4D method to manage your email (Ditch, Deal, Delegate, Decide). Then run your daily work plan through Outlook Calendar and TaskPad side by side. This will significantly improve your productivity (6%).
If you want to attend a business/networking event, there is a way to save on admission fee, ask organizers if they are looking for volunteering help: set up tables before the event, greet people at the door, bind handouts etc. That way you will get free admission.
Have employees bring in a favorite mug to have their coffee in, instead of purchasing disposable cups.
Seems contradictory, but it's effective.  Buy your employees free food for lunch and dinner.  They stay a few hours more and save a trip out of the office for lunch. 
 Before attending ANY event on behalf of YOUR business, ask yourself "As the person responsible for this company would I authorise it as a justifiable business expense that I would approve."
Cutting cost in business without cutting capabilities and performance is achieved by optimizing each employee's time.  Is every employee spending the majority of his or her day "on the revenue line" – work that generates revenue for the firm?  How to do this: I have employees of my clients keep a time log then we analyze how much time is spent on non-revenue producing activities.  We replace those activities with revenue generating activities.
Negotiate. In tough economic times, vendors are often willing to work with long term, loyal customers. If you can pay early, ask for a discount. If you can't pay on time, ask for an extension to stretch out cash flow. You have nothing to lose and everything to gain by asking.
Plan ahead, make  alist of business supplies, go for big sales etc.
Reduce fixed costs
 Use freelancer and contract staff, if  a permanent staff leaves, spread work to other staff.
Budget
Make a budget performance report for over view.
Avoid energy wastage by switching off lights, and air conditioning when not in use.
For a better deal renegotiate with contractors and    suppliers and come with creative deals.
Mr. Jaswant Sarvaiya of Fine Foods shares," For a company like ours that is basically into imports, cost cutting areas are turnover, manpower and logistics. And an area which should n't be compromised with is quality".
Conclusion: Companies that do not control costs often fall in debts, so if you haven't already, start the process now by taking the above tips.