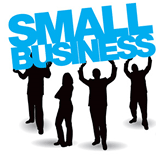 Today 95 per cent country's industrial units come under Micro, Small and Medium Enterprises (MSME). This sector has around 128.44 units (provisional 2006-07), registering a growth of 4.1 per cent annually are producing thousands of products. The value of production at current prices is estimated to have increased by 17.9 per cent to Rs. 587,196 crores and the employment is estimated to have increased to 312.52 lakh persons.
The GDP of the country is 8 per cent and the share of small sector to the global economy is an undisputed aspect. According to UNIDO estimates SMEs comprise more than 90 per cent of all enterprises in the world and are on an average responsible for 80 to 90% percent of total employment. In the entire Asia Pacfic, more than 95% of companies are in SME sector, Japan 99%; Singapore 99.7 per cent, Malaysia 96 per cent etc. Similarly in the US 97 per cent firms are in small sector.
Today there is a void of adequate Business resources for small business much more so when they contribute 35% to national income while corporate contributes 15% to national income, there has been no dedicated matter created to focus on the needs of small business.
Small Business Is Big Business
Small Businesses are the largest contributor to any economy of the world. An estimated 25.5 million small businesses in U.S. represent about half of its output; employ about half of the private sector work force(Small businesses represent more than 99 percent of all employers in U.S.), fill niche markets, increase competition, and generate a majority of American innovations.
The growing perceptive image of India as a large industrial hub sometimes Overshadows the valuable contributions that small businesses make. Small Business sector in India, still trying to match its developed counterparts is one of the most vital sectors of the Indian Economy in terms of employment generation, the strong entrepreneurial base it has.
Today the Government's concern for the well being of small retailers losing their existence in the wake of organized retail happening in India is not ill-founded as the joy that small businesses bring to the world is what makes day to day living worthwhile.
Entrepreneurship in India
With a population of 1108 million people at present to 1269 million by 2016, the economy is booming with the proliferation of entrepreneurial opportunities and free enterprise. With the 1991 reforms there emerged a new India, an India of new ideas and vision for its future. This India was a hub of business possibilities and innovation. There were technocrats, IT professionals, educated and not so educated but enterprising people all waiting to venture in to the new market arena. Thus was born the new India
India's projected economic prosperity is likely to be spearheaded by a real GDP growth of 8-9 per cent with a possible annual per capita income of Rs. 50,000 by 2012. This macro growth would entail significant sub trends like a increase in high-income households, led primarily by urban India.
Between 2005-06 and 2013-14, the number of households with annual income greater than Rs. 12 lakh will grow nearly fourfold. Within this band, there are 3.4 million households with an income in excess of Rs 24 lakh at 2005-06 prices. This segment is likely to include more than 15 million people, greater than the population of Denmark, Finland and Ireland put together.