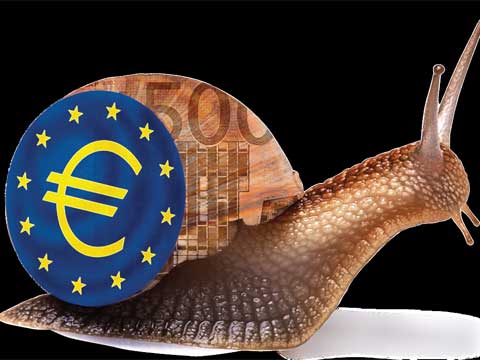 The European zone, which was considered as one of the major export market for Indian goods few years back, is currently reeling under the pressure of economic slowdown. Many Indian SMEs are facing glitches in tapping the European Union (EU) market due to lack of demand, and thus losing out in terms of growth in their profit margins.
The European economy is not performing well since quite some time now, which is creating a major setback for Indian exporters.
Few years back, the EU's contribution to India's overall exports was almost 60 per cent of the total export growth but this figure is constantly decreasing currently due to lack of economic growth in Europe. It is vital that the European nations should focus on reviving their economic conditions so that India's SME exporters can once again look at this market for business opportunities.
Challenges in the EU Nations 
India's exports to the EU witnessed a marginal growth in the last financial year. India's export to the EU grew by 2.30 per cent merely to $51.58 billion during 2013-14. However, India's exports to the EU touched $50.42 billion in 2012-13. "We are quite concerned about the EU's economic conditions, which is one of the largest trading partner of India and still accounts for about 16 per cent of our exports. India's exports to the EU in first five months of the current fiscal (April-August 2014) grew by just 3 per cent, much below our overall exports growth," says Ajay Sahai, Director General, Federation of Indian Export Organisation (FIEO).
He adds that the worrisome point is the slowdown in major economies of Germany and France which hitherto pulled the EU out of trouble. Moreover, Italy and UK are also showing signs of decline.
"The traditional exports of garments, textiles, leather, organic chemicals, etc. are heavily dependent on the EU markets, and thus slow down does not auger well for these sectors."
India's total merchandise exports increased 2.73 per cent in September 2014 to $28.90 billion showing a marginal growth as compared to the same period last fiscal, which was at $28.13 billion. The cumulative value of exports during the period April-September 2014-15 stood at $163.7 billion as compared to the same period last fiscal, which was at $153.75 billion registering a growth of 6.47 per cent.
"Slowdown in the EU is surely a matter of concern for Indian exporters but not a panic situation as our main competitors China and Taiwan are becoming costlier every passing day. The cost of labour is increasing there and a hype created by China maintaining its currency at a high value in the world market will certainly burst like a bubble," says Opinder Singh, Deputy Director, Engineering Export Promotion Council (EEPC).
Making SMEs Worrisome
There is an opportunity for Indian SME exporters in the EU market. Singh says, "We have huge scope for MSMEs in Europe especially for castings, forging, auto sector and agriculture implements and also for process outsourcing and project exports. If India needs to reap benefits from the export of these items to the EU, the resurgence in the EU's economic conditions is imperative."
Indian SMEs are the ones that are facing immense challenges in the EU market as of now. Small exporters have vast potential for manufacturing quality items but uncertainty in the EU is hurting these exporters. Singh says, "High precision products like engine parts and electrical fittings, CNC machines, pipe fittings, and most of high carbon steel products used for cutting and erasing are performing adversely in the EU market."
Experts also believe that the demand for consumption goods will also decline in Europe in general and EU in particular. "With high purchasing power, the demand for niche products will be there, and we expect SME to target the same," adds Sahai.
Also, the pharmaceuticals exports will do well as we are price competitive and India adhere to Intellectual Property Right (IPR) regulations. "SMEs in this sector need to grab opportunities present here. Moreover, as SMEs are looking for cheaper credit and technology, the EU can be a good option for this. The cost of fund in the EU is below 1 per cent. Joint venture, equity infusion and FDI options can be explored by SMEs," Sahai says further.
In a similar tone, DK Nair, Secretary General, Confederation of Indian Textile Industry (CITI), explains, "The Western Europe has traditionally been the largest market for our textile and clothing. Their economic slowdown is a serious issue for our textile exporters, mainly SMEs. However, there is an indication that the EU's economy will start growing, though slowly, now. Moreover, other major markets including the US have better demand for finished products. Slowdown in the EU will not only affect our exports of finished goods to Europe, but also of raw materials and intermediate products to Asian and other countries that convert them to finished products for exports to Europe."
India-EU Trade Agreement
The India-EU bilateral trade talk, launched in 2007, known as the Broad-based Trade and Investment Agreement (BTIA) is stuck in between negotiations as the EU is not convinced with India on many issues. The talks are facing stalemate on the issues of insurance, government purchases and market access for automobiles and wines and spirits. If a consensus is build between both sides, then it will be a game-changer for SMEs that are presently losing out to Bangladesh, Sri Lanka, and Pakistan due to tariff preference enjoyed by them. Both India and the 28-nation EU bloc believe that this agreement will give a major fillip to the two-way trade as well as bolster the bilateral strategic partnership.
An exporter of leather goods to the EU market, Rafeeque Ahmed, Chairman and Managing Director, Farida Group, says, "There is a need to sign the Free Trade Agreement (FTA) with the EU, and this is in discussion currently. This will help Indian SMEs to boost its exports to the EU." He adds that small exporters in the sea food industry are performing well but India is facing tough time to promote traditional exports that include gems and jewellery, textile, leather, handicrafts, etc, to the European economy.
The EU's Economic Conditions
Ireland is one of the EU countries that managed its economy very well. Curtailing expenditure and increasing its revenue through tax hike will help Ireland to bring its deficit almost within 3 per cent of national output by 2015. Unemployment rate has come down from over 15 per cent to around 11.5 per cent in the last two years. The country is focusing on service and hi-tech industries and has attracted huge investment from the US and other advanced economies with one of the lowest corporate tax of 12.5 per cent. 
As per EEPC, "Not only Ireland is performing well, but Poland, Czech Republic and Italy are also growing. EEPC can also focus on growing markets and organising delegation or exhibition there."
"Currently, there is some sorts of revival taking place in the European economy. There is a festive season round the corner in the EU. The profit margins usually increase by 15 per cent during a festival season," says Rajiv Chawla, Chairman, Faridabad Small Industries Association.
Deep Kapuria, Chairman, High-tech Gears Limited and an exporter of transmission gears to the EU, says, "There will be problem for some sectors where you will not get dividends right away. So, the sectors associated with it may get hurt due to the sluggishness in the European economy. The growth is yet to come back. We need to reinvent ourselves, innovate, and there should be ease of doing business."
The 18-member euro zone registered 0.2 per cent GDP growth in the second quarter of the current financial year. Moreover, the European Central Bank (ECB) plans to buy asset-backed securities (ABS) to push money into the economy and help in its revival. Economists expect the ECB to announce a comprehensive purchase programme (for ABS and covered bonds) between 200 and 300 billion euros for the next two years.
Government's Move
The government should develop R&D activities in India. There is a lack of scientific methodology due to which India's share in R&D is merely 2 per cent. India needs to reduce its dependence on imports from developed countries like the US, Japan and Europe and save the valuable foreign exchange. Furthermore, there is a need to avail funds for technology upgradation, avoid multiple taxes agenda, industry friendly labour laws, promote 'Made in India' brands, focus on new and developing markets, and a need to reduce corruption in bureaucracy.