Poll Manifestoes: What is There for India Inc?
As the political frenzy has gripped the nation over last five-six months, the major political parties - BJP, Congress and AAP - decisively showed their cards last month.
Tags: Poll Manifestoes, India Inc., BJP, congress, AAP, Narendra Modi, AAP manifesto, BJP manifesto, Congress manifesto, Sanjay Jha
BY Sandeep Soni | Apr 04, 2014 comments ( 0 ) |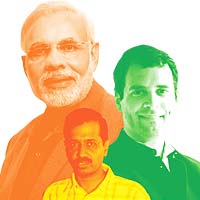 The 'please-all' election manifestoes released by these parties is a fiery political rhetoric intended to create a utopian society. Their promises aim to delight every section of the society to emerge victorious in the current elections.
The three parties' manifestoes exudes confidence of putting the 'gasping elephant', as said by HSBC two years ago, back on the growth track over the next five years period. India's economy plummeted to nine-year low at 5.3 per cent that attracted sharp reactions from world leaders. Political parties have been promising to India Inc of making conscious efforts to provide better governance, freedom from crony capitalism and ease of doing business.
Ease of Doing Business
Ubiquitous corruption, scams, falling rupee and huge current account and fiscal deficit put India at the near-bottom of 'Ease of Doing Business' rankings – 134th out of 189 countries – by the World Bank Group. Moreover, levying 30 per cent tax on start-ups raising angel investment and tons of paper-work and cumbersome regulatory process have done the further damage. Despite all that, it has been heartening to know that more than two start-ups emerge every day in India and around 500 annually. No wonder this number can be doubled if the larger ecosystem becomes conducive for setting-up and running businesses.
Growth and making India more business friendly are on the top of the agenda of all three parties. The Congress party intends to improve India's ranking from 134 to 75 on business index by creating a stable and predictable business environment. "We will ensure that the interface between the government and industry is simplified. We will also usher in comprehensive regulatory changes in this regard," says the Congress manifesto. The party suggests the inclusion of electronic platforms, such as 'E-biz Project' for single-window electronic clearances of regulatory approvals from the central and respective state government. Moreover, it aims to "set-up a 'Regulatory Reform Task Force' to look after all regulatory processes of central government ministries with the intent of repealing unnecessary processes, streamlining the regulatory structures and improving ease of doing business in India," adds the manifesto.
Sanjay Jha, Congress Spokesperson, says that one of the critical elements in the manifesto is project clearances. "There will be a National Investment Facilitation Authority to identify delayed projects and resolve inter-ministerial issues to enable rapid and transparent approvals to large projects, especially in the infrastructure sector. Through this, the easy of doing business will become faster dramatically. As the manifesto says, we will reduce bureaucracy, red tape and have reforms on how to make government working more efficient," says Jha.
While the Congress has laid down key areas of growth revival, BJP and AAP too have done the same but not quite explicitly. For instance, the BJP in its manifesto talks about the generic promises, such as a conducive and enabling environment for doing business in India, cutting the red tape, simplifying procedures and introducing single window clearances. But it doesn't tell exactly how that will be undertaken.
The same goes for AAP when it says, "...focus on clean, open and transparent governance to create a level playing field for honest businesses to thrive and succeed on their own merits; curb monopolistic and anti-competitive practices."
"We are not against industries or business, but we are against crony capitalism. We believe that unless industries don't flourish, we won't be able to generate jobs," said AAP Chief Arvind Kejriwal earlier during the launch of party manifesto.
If two key tax legislations – GST and DTC, which are sought by India Inc, are passed by the new government, it will be a historic move. Since 2010 when GST was first tabled in Parliament, the bill has failed to see any light because of centre-state conflict on possible revenue loss by the states. Industry experts maintains that GST and DTC can significantly increase the GDP by up to 1.7 per cent in the medium term as it will enhance India's tax system and increase tax-GDP ratio.
While the Congress has been vocal about the implementation of both GST and DTC within one year along with avoiding risk of retroactive taxation, BJP has stated to rationalise and simplify tax regime, adopt GST and provide tax incentives for investments in R&D, however keeping DTC aside. The political start-up AAP has voiced an obvious response of keeping tax structure simple, increasing tax:GDP ratio, etc.
"The clearances got delayed because the opposition (BJP) did not want the Parliament to function. Many BJP state governments were defiant about GST. We will convince everybody about it, and if there are any issues in terms of loss of revenue by the states, then there are provisions that they will be compensated," explains Jha.
"BJP has never opposed GST. The preparation on the part of the Centre is not done. The concerns of the states should also be addressed," said Modi, BJP's Prime Ministerial candidate at the conference on economic growth held in Delhi recently.
Regaining Investors' Confidence
The retroactive tax imposed on Vodafone by UPA-II still haunts the investor community. However, many investors are expecting that a Modi-led BJP government can give a much needed leg-up to the faltering Indian economy and investments. The three parties have taken different stands on FDI.
Barring multi-brand retail, the BJP has promised to allow FDI in every sector that will create jobs, assets and infrastructure and where acquisition of niche technology and specialised expertise is there. Whereas Congress has welcomed FDI in all sectors claiming that this will help agrarian economy and offer better returns for farmers.
"We are the only party that is saying that FDI can come in every sector. We will encourage more FDI in labour-intensive sectors so that it helps in employment generation," says Jha. The party, however, has left it on the states to decide on allowing FDI in multi-brand retail. "FDI in multi-brand retail has become a big issue because several chief ministers were against it that it would going to hurt their farmers or traders or other people in the supply chain. Hence we allowed them to decide on it," says Jha.
Along with BJP, AAP too has opposed FDI in multi-brand retail. "The small Indian store owners will lose business if FDI in retail implemented. Tell me one nation where FDI in retail has led to increase in employment. Only the nation's businessmen and industrialists give jobs," said Kejriwal earlier this year.
Bringing Back Growth
Focus on job creation and promoting entrepreneurship are two big aspects towards attaining economic growth and these are significantly highlighted by all three parties in their manifestoes. It is crucial for a developing young nation (65 per cent of which is below the age of 35) to foster entrepreneurial spirit among its people to promote capital formation and job creation leading to overall economic development.
While the BJP focuses on both job creation and entrepreneurship in rural and urban areas, incubating entrepreneurship as well as facilitating credit, the Congress outlines a detailed 'Jobs Agenda' within 100 days of forming government that will create 10 crore new jobs and entrepreneurship opportunities for the youth. AAP's manifesto too caters to creating employment for young women and men and an ecosystem for aspiring entrepreneurs having access to capital, information and infrastructure.
Congress, in its current manifesto, has introduced six new minimum socio-economic rights including "Right to Entrepreneurship that will protect and assist all those who seek to become entrepreneurs," says the manifesto.
"Right to Entrepreneurship is actually a salute to young India that has the talent to take things forward. We will have tailor-made packages with a host of start-up advantages which will give entrepreneurs a kick start," says Jha.
The BJP and Congress have also accorded high priority to the growth of manufacturing sector to boost employment. Congress has targeted 10 per cent growth in the manufacturing sector and creating 10 crore jobs in the sector alone within a decade under the 'National Manufacturing Policy' of the UPA.
Another important area requiring attention is fiscal consolidation. While according to Finance Ministry, the fiscal deficit is likely to be controlled at 4.7 per cent of GDP in 2013-14 from 4.9 per cent in 2012-13, the International Monetary Fund last year in October had stated fiscal deficit to rise to 8.5 per cent of GDP due to India's current economic downturn.
According to the BJP manifesto, "The party will strictly implement fiscal discipline, without compromising on funds availability for development work and asset creation. The party will also undertake banking reforms to enhance ease and access, as well as accountability. Furthermore, the party will reduce Non-Performing Assets in the Banking sector and encourage Savings as an important driver of investment and growth."
The Congress too, as per its manifesto is aiming to bring down fiscal deficit to 3 per cent of GDP by 2016-2017 while setting up an independent 'National Fiscal Responsibility Council' that will report annually to the Parliament on the progress made in achieving fiscal commitments. It also intends to prepare a road map to attend to the issues of public sector banks, such as recapitalisation, Non-Performing Assets, operational autonomy and human resource development.
While the sentiments run high for a Narendra Modi-led government to replicate Gujarat-based growth model across the nation being pro-business, the Congress has come out with guns blazing claiming it to be shambolic.
"Gujarat model is nothing but shambolic. It is the biggest monumental fraud perpetrated on a very unsuspecting nation. Growth is nothing if you are not able to protect stop malnutrition, infant mortality, illiteracy, closure of SMEs, farmer suicide, labour disturbances, etc," says Jha. He attributes the India's economic downfall to the global financial crisis and disregards the fact that corporate India is supporting BJP. "I don't think India Inc. is supporting Modi although there are some big industrialists who are supporting him," says Jha.
MSME Focus
Although the promises announced by the three parties looks advocate of improving the business climate, however little did BJP and Congress say about the MSME development that are the real growth drivers of India. Moreover, AAP on its part didn't commit anything particular for the MSME sector in its manifesto.
BJP, nonetheless, does point in brief measures, which are quite generic over what the sector requires from the government. Focusing on improving MSMEs' competitiveness, it highlights providing international linkages to boost MSME exports while improving supply chain efficiencies, adoption of IT, support in R&D and innovation and a policy support for enhancing the mandate to purchase from SMEs for large-scale projects. What is noteworthy in the party's manifesto is to set-up a dedicated SME bank for ease of finance availability.
Alternatively, Congress has focused on encouraging technology adoption among SMEs. It suggested the creation of a 'Patent Pool' to help SMEs access world-class technology at affordable prices. However, it does not explain how SMEs will access it. Furthermore, Congress has promised to create 100 new urban clusters around emerging towns and cities powered by electricity and transport facilities and ensuring 10 per cent growth rate in the manufacturing sector with a special emphasis on SMEs.
On the exports front, the Congress announced an enhanced framework to promote exports and wave off all taxes including Central and State that go into exported products.
Most of what these parties are offering to corporate India especially Congress (being the incumbent government), sounds convincing given the huge expectations that Indian businesses have from the next government. However, given the pace at which the Indian Government and the democracy have functioned over the last 10 years, it is important to understand how well the new government would be able to walk the talk.