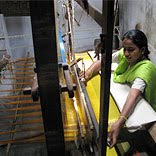 Clusters integrate the industry needs and requirements that makes it encouraging for the government as well as other support agencies to form and implement policies. 
It is a historically proven fact that industry has grown and become functional in clusters. Craftsmen and artisans are known to operate from such clusters which cater to their similar competency groups. Today, there are 6,500 clusters out of which only 450 are supported by the government. These mainly constitute of handloom or textile sector, and others that are more labour intensive.
The main reason why the government agencies and other MSME (Micro, Small, and Medium Enterprise) support groups want to back the cluster fundamental is because these enterprises and their entrepreneurs are too small in comparison to the global demand and supply logic. They need cumulative efforts to help them sustain their businesses, which is not possible by their individual efforts, and may collapse under the competitive pressure.
The MSME ministry initiated selected interventions in industrial clusters first in1998 through its scheme 'Integrated Technology Upgradation and Management Programme (UPTECH)'. The Ministry simultaneously continued to implement a separate Integrated Infrastructure Development Scheme (IID) for setting up industrial estates and develop other infrastructural facilities like power distribution network, water, telecommunication, drainage, roads, storage, marketing outlets, common service facilities, etc.
There is deep heterogeneity in MSME sector, in terms of size, sector, operational cycle, seasonal constraints, external markets that they deal with and many others. A cluster helps clear this confusion, and creates a common pool of resources for these industries. In a cluster critical inputs can be controlled and industry requirements are better managed.
U. K. Varma, Secretary MSME Ministry agrees on the benefits of organizing micro and small industries in clusters. He says that, "Resources are  not a  problem, implementation is. A policy stands in true test during the implementation stage. Benefits should get accrued to the required section, and a cluster helps in giving direction to the efforts."
Progress report on Cluster development (based on MSME Annual Report 2010):
1.    457 clusters have been taken for Diagnostic study, soft interventions and hard interventions under the Micro Small Enterprise- Cluster Development Programme (MSE-CDP) 2010.
2.    Under the IID Scheme, 93 new IID centers were sanctioned, out of which 52 have been completed. A total of 9956 plots have been allotted to small and tiny units and 2770 units established.
3.    The scheme has generated employment to 25869 persons so far, and infrastructure in 28 old/existing estates has been upgraded/strengthened since inception.
M.K Mehra, Director, Okhla Garment and Textile Cluster (OGTC), supports the cluster forming initiatives but is of the opinion that the task should not be left on the government alone. He supports his statement by saying that there are only 6500 registered clusters out of which only 457 under the government's wing, rest all of them are functioning by creating and seeking mutually beneficial grounds for their industry. "We at OGTC, organize many seminars for our industries that school them about the managerial aspects of running a business. There are other schemes that are aimed at enhancing their technical standards and help them attain qualitative efficiency. The industries can enhance their own capabilities once they get together and start working on a common ground."