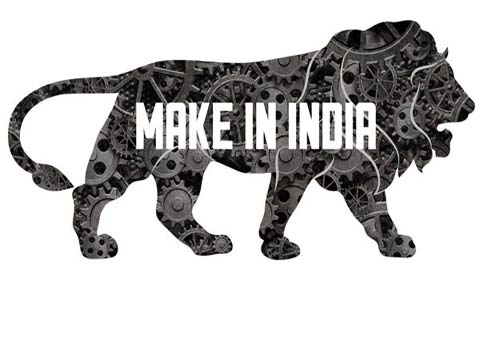 Will Narendra Modi's 'Make in India' campaign push India's manufacturing growth? Will it increase the share of manufacturing sector in the country's GDP to 25 per cent by 2022, from the current 15-16 per cent? Will it attract investors?
The Prime Minister is aiming to turn the country into a global manufacturing hub. India has to grow fast to increase per capita income and create 10 million work force every year. The need of the hour is that India needs to follow the model of labour-intensive manufacturing growth rather than services-driven growth. India's labour-intensive sectors usually comprise SMEs.
The contribution of MSMEs to the manufacturing is almost 45 per cent of the GDP and 40 per cent to the country's exports. So, there is a huge scope for MSMEs to build their brand, develop quality products and boost exports from India. Moreover, an industry friendly "Make in India" campaign can immensely attract investors.
Facilitating MSMEs
 
This has been a much-awaited policy change that Modi has announced recently. The launch of Shramev Jayate Programme by him is one such initiative that is quite significant to boost manufacturing in the country. This will also supplement his "Make in India" campaign.
Under this programme, the government has provided a Unified Labour Portal or 'Shram Suvidha, a transparent and accountable Labour Inspection Scheme, and portability through Universal Account Number (UAN) for Employees' Provident Fund members. Modi has flagged off an Apprentice Protsahan Yojana as well.
"Simplification of procedures has been a long-standing concern for the industry, and this initiative by the ministry will considerably ease the burden of compliances especially for the SME sector," says Chandrajit Banerjee, Director General, Confederation of Indian Industry (CII).
Industry stalwarts believe that filling of single tax return, provision for single window clearances, self certification, and computerised random selection of units for inspection will add to the ease of doing business. This will attract both domestic manufacturers and foreign investors. RC Bhargava, Chairman, Maruti Suzuki India Limited, says, "The government should focus on modern manufacturing activity. India is yet to adopt the modern manufacturing techniques."
"The aerospace, defense and engineering industry require high quality and hi-tech equipment for manufacturing purpose. India needs to build its own manufacturing setup to make SMEs compete with global manufacturing firms. Moreover, the role played by MSMEs in assisting Maruti Suzuki in its journey to become the biggest car manufacturing company has been phenomenal," he adds.
Dr D Gandhikumar, President, Federation of Indian Micro and Small & Medium Enterprises (FISME), says, "The products, which are manufactured in the overseas market, are of good quality. The need of the hour is India needs to improve the product quality and packaging, boost investment in technology, and reduce red tape mechanism. Technology should be crafted in such a manner that there should be 'Zero Defect and Zero Effect.
"The products especially the Diwali items such as crackers and lights are usually made in China and are cheaper. "China is dumping these products in the Indian market and spoiling the growth of indigenous manufacturers. Can't India manufacture it and sell it to the market?" questions Krishnan Gupta, Chairman and Managing Director, Organic India Pvt Ltd.
He further adds, "SMEs can manufacturer such items and sell it. The products manufactured by China are less expensive and longevity is also less. So, if India is trying to manufacture such quality items then it will definitely help India to expand its market base. Also, the iPhones are manufactured by China. Apple's manufacturing base is in China. Can't India manufacture these items? If India starts manufacturing such items then it will help India to create tremendous jobs within the country."
Industry says this campaign is a move to bring in more FDI in India. Moreover, emphasis should be laid on local small-scale industries such as Khadi, which are popular in India, but may not find such a big market internationally.
China's Modus Operandi
India needs to build robust infrastructure and adopt latest technology to compete with China. Experts believe that the government benefits provided by China are helping Chinese manufacturers a lot. China has invested heavily in large-scale manufacturing equipment and facilities. They are providing proper infrastructure and logistics to support their manufacturing and exports. The simplification of labour laws is another reason why China became a hub for manufacturing activities.
"There are still a few challenges when it comes to foreign investors setting up manufacturing plants in India, such as elaborate procedures for regulatory clearances, few tax concessions, lack of rudimentary infrastructure and outdated labour laws. China is a success story in this respect that means that the "Make in India" campaign is a very plausible dream for us. Good governance and an open attitude for more R&D portals can be the recipe of success for this campaign," says Rahul Agarwal, CEO, Organic Harvest Company.
Also, Germany, Japan, Korea and other manufacturing based countries are investing potentially in upgrading technology and infrastructure to manufacturer quality products, which they are further exporting to countries like India, thereby hurting the growth of indigenous industry in India.
"I think the problem lies in the trust we place in foreign brands; Indian brands need to focus on quality to gain consumers' trust. Higher quality and steady supply of products should be the key focus. We need to raise awareness about how this model can mean growth for small-scale and large-scale industries alike," he says.
The government should provide incentives to foreign companies to come invest in India. "When I say incentives I mean tax concessions, subsidised machinery and imports, encouraging more R&D-based projects. Tax breaks should be given to existing manufacturing plants to upgrade equipment," elucidates Agarwal.
Changing Market Dynamics of China
Earlier, foreign manufacturers were looking towards China in terms of investment. But, the perceived advantage of low-cost labour is disappearing in certain Chinese areas, eroded by rising labour and other costs.
Currently, there is a labour shortage in few places in China, which hindering the growth of manufacturing in China. Issues such as high intellectual property, protection burdens, quality control issues, management overheads, logistics overheads and other hidden costs are also hurting China.
Experts say China is expected to lose a number of orders due to the rising wages and if India gets the "Make in India" act right by improving the ease of doing business here, it can win a significant share of these orders from China.
Successful Government Initiatives
The MSME Ministry has implemented the National Manufacturing Competitiveness Programme (NMCP) under the aegis of the National Manufacturing Competitiveness Council. Under the NMCP, The National Programme for Application of Lean Manufacturing has been very successful among SMEs. It has helped SMEs to reduce wastage and save potential money. SMEs should take advantage of this policy to boost growth.
Besides these, India has recently approved the licenses of 33 pending big ticket defence deals out of which 19 proposals were related to FDI. This was done keeping in mind Modi's latest initiative of "Make in India" campaign for boosting domestic manufacturing. Furthermore, the government's eBiz project will also help to create an investor centric hub-and-spoke based online single window model for providing clearances and filing compliances.