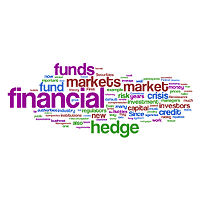 Images of hedge funds invoke fear and discreetly celebrated financial windfalls in dim, velvety Manhattan clubs and coastal golf courses spangled with seagulls. Most citizens have never fully understand what hedge funds do and, and many have even blamed hedge funds for the problems of society.
It is unfair, of course, to discriminate against hedge funds as a class.  Just as there are good seeds and bad seeds through every facet of society, there are plenty of good hedge funds that in fact help contribute to a meaningful society.
These days, there is a new era offering new opportunities for hedge funds to open themselves up to the public.  Recent changes to federal laws allowed funds a new way to publicly solicit when raising capital.  The impetus was to allow companies and funds easier access to capital, and investors easier access to deals.  This means that the funds could now publicly market to everyone, and not necessarily rely only on sales to private investors behind closed doors.
Now, hedge funds must determine whether they want to take advantage of these opportunities.  If they do, the question is how will they manage public perception and manage their brand since they would expose themselves to the public?  Hedge funds such as Bridgewater Associates LP, BlueMountain Capital Management LLC, Caxton Associates LP, Diversified Global Asset Management Corp., and Aetos Capital Management LLC have already begun targeting the general public as potential investors. Others have and will follow suit. 
The key to success with such offerings is not just a promise of financial gain, but also the cultivation of a trustworthy and respected brand.  After all, these funds have to appeal to the investors that you only find when publicly soliciting.  They have to differentiate themselves from other hedge funds and other investment opportunities, and failure to do so could mean the difference between success or failure for hedge funds relying on these new laws.  Everyday investors might not care only about performance numbers and a glossy brochure. Everyday investors may seek a set of values and a belief system exercised by conscionable human beings who are responsible for their decisions and actions. Investors all want a brand to believe in, and it's up to the hedge funds to build that proper brand.
The truth is, many hedge funds will not opt to raise money publicly.  Most of them are content handling the affairs of private, limited partners with whom they've enjoyed a reliable and mutually-profitable relationship. And that's their prerogative.  It's not necessarily a bad thing.  In fact, many industry experts lament the new laws and believe that everyday investors are too unsophisticated to understand the complexities of investing into hedge funds. Others, of course, believe that investing opportunities should be given to everyone.  As with many of these types of debates, the truth probably exists somewhere in the middle.
But one thing is for certain: this is a new era for hedge funds, and smart money thrives best in the light of opportunity.
About the author:
James Thompson is a writer for VerifyInvestor.com