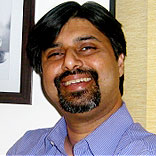 While everybody aspires to be tagged with something big, Rajeev Karwal with over 25 years of experience of brand building opted to work for star-ups. His company Milagrow, acts as a one-stop destination for the MSMEs by providing them knowledge solutions. Rajev Karwal spoke to Franchise India Media.
Shambhavi Anand (SA): When and how did Milagrow come into being?
Rajeev Karwal (RK): Three years ago, March 2007, I started with a dream to start a business which could do social good, be effective in bringing about a change in the society and still be sustainable. I wanted to do something which could do nation building and give me the satisfaction of causing a permanent change in the society would be there.
SA: What inspires you to work for SMEs?
RK: In India, everybody is looking towards big business. Government wants to work for them; suppliers want to work for them; industry chambers want to work for them but nobody wants to work for or with the small business. These big business men may or may not be entrepreneurs by choice. They might have been pushed by the society to become businessmen. For SMEs who really want to be entrepreneurs, availability of finance is zero, people is zero practices are also zero. It is this sector which needs help and their needs a particular to each company but paying capacity less. And so no company wants to have them as their clients.
We at Milagrow try to understand their individual needs and help them accordingly. We try to make the small brand a big brand. And fort hat we are trying to be a one stop solution for them.
SA: What is your business model? What all services are offered by Milagrow?
RK: Basically we provide consultancy services but we call ourselves venture catalyst. We provide solutions for HR starting from recruitment to capacity building and everything. We have tied up with the world's best HR Company, Dale Carnegie.
We also helping facilitating funding.
We charge our clients for our service. Our fee structure takes care of cost and slightly more. Sometimes we get stakes in the company. We also have revenue and profit sharing model. We create value together and reap the benefit.
SA: How are your mentoring services different from other organizations in the fray?
RK: Mentoring is just a part of the model where one gets coaches and trainers who give you an insight of a certain area of your target. But just mentoring can not make you cope with the pressures of being an entrepreneur. There are so many intangible areas attached to mentoring an entrepreneur which most of the people miss out.
We at Milagrow induce confidence in our clients so that they can handle pressure and become capable of taking difficult decisions in his venture. Skills can be acquired by experience. But to acquire that experience one needs the confidence to sustain for a certain period of time. We help to induce that confidence in them so that the best in them is brought out.
SA: Do you provide mentoring services to overseas SMEs as well?
RK: Yes, we have clients outside India as well.
SA: Does the current socio-economic scenario provide enough impetus to entrepreneurship in the country?
RK: No, I don't think India provides enough impetus for the MSMEs to grow. The MSME space is large, diverse. Every enterprise, like a human being, has their own needs and characteristics. All the ventures cannot be treated as one. But this is what happens in India.
India as a country is structured in such a way that power is divided between state and center and also different ministries. For example, there is a ministry for finance which will kook after policies related to finance, there is a labour ministry which will look after that then there is a chemical ministry which will take care of those policies. The role of the ministry of MSME is of a facilitator vis-a-vis all these ministries. Not that the ministries are not doing their work, 70-80% of the MSMEs are not even aware of these policies or facilities. Not even the apex industry chambers are helping the MSMEs in real terms.
SA: What are the main setbacks for budding entrepreneurs?
RK: Finance is the biggest problem for SMEs in India. Do you think if ideas like facebook, hotmail, had come up in India, they would have been financed?
The best investors in a business here are angel investors like friends and family. Then there are incubators. But they are also not able to provide all kind of support as very soon these small companies need working capital to grow, which is not available to them.
For getting a loan sanctioned from a bank, one needs to go through a lot of paper work.
The only choice that a SME has in this case is go to the market and raise fund. These funds are available at higher rate of interest which makes them uncompetitive. Once they reach to a certain stage and go to banks for loan, their balance sheets are week and they are declined the loan.
It is a vicious circle. The system is such that nobody knows who the hunter is and who is the hunted.
SA: Finance remains the most important deterrent for start ups. How do you help them tide over this problem?
RK: We do not provide funding for everybody. First we do some research about the company. If they are good and the business model is sustainable, we facilitate funding for them. This we do through our network.