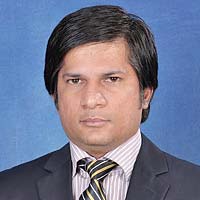 While talking to SMEntrepreneur, Manish Patil, Business Head, Ecommerce24, talks about his firm and the opportunities in online business in India.
Please give us a brief about Ecommerce24.
Ecommerce24 is a platform that provides end-to-end solutions to all businesses to start and grow their online verticals. These services include website development, operations and digital marketing. Ecommerce24 is a venture of Mitashi Group, a well-reputed brand in India.
What are your offerings for SMEs?
We are India's first end-to-end e-commerce solution providers. Our services include:
Website Design & Development - To enable businesses reach to maximum Internet users, including mobile Internet users.
Payment Gateway solution - To facilitate online payments.
Logistic Solutions - Includes courier service, warehousing, packaging and logistic process set-up.
E-commerce Business Consultancy - To help businesses set up the entire e-commerce vertical and expand their business online.
Education and Training - Our e-commerce and digital marketing workshops empower online business owners and managers with relevant knowledge and in-depth training to manage a complete online business in the most efficient and profitable way.
Outsourced service – This includes call centre for e-commerce business, product photography, content writing, catalogue and website management, order and logistics management and digital marketing.
What are the challenges SMEs face in terms of establishing online business?
We have observed that SME's face following challenges in setting up their online business:
Technology – Selecting the right technological platform is usually a big challenge as for the layman it is difficult to figure out what features are needed in the website backend and frontend.
Operation – The existing infrastructure of most of the businesses are not compatible for e-commerce operations, this comes as a big challenge for setting up online business for SMEs. In case of brands, the operation setup is compatible for online sales channel where products are distributed to distributors and distributors in turn supply the products to retailers. But an online business model may need a warehouse setup that executes single order to end customer, this kind of setup needs a different process, infrastructure and resources.
Accounting and taxation – Accounting structure for online business may be complex. In India different states have different taxation which is another challenge the businesses may face during setting up an online business. It is very important to understand the taxation and accordingly set up the billing and accounting process.
How do you enable SMEs to set up online business within 24 hours?
We understand the needs of all kind of e-commerce business, accordingly we have developed various modules, designs, layouts and processes. Once the SME come on board, we understand their business structure and accordingly craft right solution in terms of technology and various e-commerce services. Our flexible platform enables us to integrate right modules as per business needs within minutes, hence enabling us to set up a business ready web store for our clients within 24 hours. Our tie-ups with various third party ecommerce's vendors and our in-house setup of e-commerce services actually enable our clients to set up entire online business right from building the website to setting up e-commerce operations within 24 hours.
Recently, Ecommerce24 has tied up with multiple third party applications, and E-commerce related service providers. How these tie-ups will benefit your company?
There are multiple third party applications and services that enable businesses to grow and manage their online business with ease. For example, we have tied up with "Browntape.com" which is a very advance application for automated shipping process. This application enables businesses to manage and automate shipping of orders from various marketplaces in a single interface. Another application, "Punchtab" enables businesses to run loyalty and reward programme for its customers.
Ecommerce24 identifies and tests such applications and services which can help our clients to grow business and increase their efficiency of operation. We also ensure that Ecommerce24 clients get discounted prices on such application and services.
How big is the online business in India? What is your strategy to survive in this industry?
The size of e-commerce industry in India was $13 billion in 2013 and is expected to reach around $ 50-70 billion by 2020.
Our strategy is to educate, enable and enhance our clients' businesses. We have a unique approach of understanding the business of our clients and craft the right solution accordingly. Creating an ecosystem for e-commerce business is an important part of our business strategy. With more than 48 million SMBs in India, the need for specific e-commerce solution providers is growing day by day.
What are your growth and expansion plans for the next five years?
Although SAAS platform is one major area since most of the businesses will want to start with an e-commerce-enabled website, we wish to establish in the top 5 SAAS service provider by the end of FY 14-15 and gradually be amongst top three players in the next three years. In the next five years, we wish to establish Ecommerce24 SAAS-based service in various countries like Central America, Middle East, Australia and New Zealand.