Transforming Data to Intelligence
Activecubes provides analytics services with associated technology solutions, empowering clients to make the best decisions.
Tags: data inventroy
BY Arindam Ghosh | September 04, 2010 | COMMENTS ( 0 ) |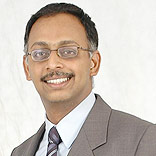 Rajesh Varrier
Founder, Activecubes
Activecubes provides analytics services with associated technology solutions, empowering clients to make the best decisions.
Franchise India (FI): Tell us something about activecubes? What is your product offering and key differentiators?
Rajesh Varrier (RV): activecubes is a company which focuses on extracting actionable insights from your data. Today, companies world over collect huge amounts of data with respect to all aspects of the business. In the data lie insights with respect to trends and patterns about your customers' likes or dislikes, buying behaviour, performance of sales, marketing programs, inventory etc. We work closely with some of the world's leading organisations in generating the insights which help them optimise their strategies and gain edge over competition.
(FI): How did you conceive this idea?
(RV): The idea of focusing on analytics and related technology comes from the several years of experience the founding team has had working with companies across the world.
(FI): Where did you get the funding from?
(RV): We raised funds both internally and externally.
(FI): Where do you put the market potential in this segment in India?
(RV): Market potential in India is significant pretty much for every thing. India being a growth market, true visionary firms today are putting in place these best practices right now so that it will help them gain a competitive edge today and more importantly significant advantage tomorrow when the growth rates start stabilising.
(FI): What is the biggest challenge you have faced so far and what was the strategy you implemented to deal with it?
(RV): There is no one aspect that stands out as the biggest challenge. Every point of time there is always a challenge which needs to be dealt with. When you start the firm, your first challenge off the block could be getting your first client. Then, in matter of a year or 2, it would be raising funds and increasing sales. Once sales starts kicking in, it would be hiring right kind of people, then its retention and sustaining pace of growth and so on. As any organization, we have gone through these phases too.
(FI): What have been the key marketing and brand building strategies for your business?
(RV): We have not pursued specific marketing and branding strategies yet, it is in the works though.
(FI): What is your growth plan in the next three years?
(RV): We are focusing on 3 verticals: financial services, Healthcare-Pharma and Manufacturing. During the next three years, we will be looking at increasing our presence in these three verticals, with onboarding of more clients and increasing the breadth and depth of our services in this space.
(FI): What is the opportunity in this space for new entrants?
(RV): Any one who understands the space can easily appreciate the size of the opportunity. As the world moves towards becoming a more data driven society, data is being captured about every thing we do. It is easy to see how the business of deriving intelligence from huge amounts of data being gathered will keep increasing in importance over the coming years.