Looking for original luxury sedan parts? SparesHub.com ends your search
Currently, SparesHub.com has a team in Pune, Mumbai and Nagpur, which will soon expand to top 15 cities in India.
Tags: automobile spare parts, indian automobile industry, spareshub.com, Automotive Component Manufacturers Association, Tata Motors, eCommerce, Mercedes Benz, BMW, Audi
BY Aparajita Choudhury | March 11, 2015 | COMMENTS ( 0 ) |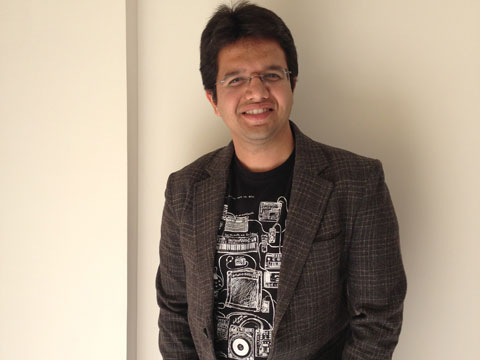 Tapas Gupta
Co-founder, SparesHub.com
The automobile spare parts replacement market in India is very large, complex and unorganised. The current size of the components business in the Indian auto replacement market is over Rs 30,000 crore, growing at 7 per cent to 9 per cent annually. The combined value is projected to rise to Rs 40,000 crore by 2015 and to Rs 60,000 crore by 2020.
Surprisingly, according to a study conducted by Automotive Component Manufacturers Association of India (ACMA), almost 36 per cent of the auto parts in the replacement market are fake, which is a matter of concern for the industry. Moreover, the unavailability of automobile spare parts acts as one of the biggest hurdles for car and garage owners across India.
Even tier-2 and tier-3 cities have premium luxury cars like Mercedes, BMW and Audi, but they do not have authorised service centres within a radius of 200 KM. Therefore, to address this geographical asymmetry, car enthusiasts Tapas Gupta (who has worked at Mercedes Benz), Arijit Chakraborty (who has earlier worked with Tata Motors) and Diptanu Bhadra (an ex employer of Honda Motors) conceptualised the idea of SparesHub.com in December 2013.
SparesHub.com is an automobile spare parts eCommerce startup launched in Pune, which is known as the country's major automobile manufacturing hub. The eCommerce portal provides spare parts from more than 50 reputed after market companies and offers about 15,000 plus part numbers through its website. Currently, SparesHub.com has a team in Pune, Mumbai and Nagpur, which will soon expand to cover top 15 cities in India as their supplier base expands across India.
"We received our first order on second day of our website launch for a petrol tank flap cover for a hatchback car, without any marketing. Ever since then we have been growing. We wanted to solve the problem of unavailability of spare parts in India using eCommerce," says Tapas Gupta, Co-founder, SparesHub.com.
During the initial days, the trio faced many challenges such as convincing, teaching and winning customers' trust that even car spare parts can be bought online, convincing sellers about the market potential and bringing them on marketplace.
Thrust for Entrepreneurship
When Gupta was a teenager, he used to read a lot about famous entrepreneurs like Dhirubhai Ambani, Bill Gates, Ratan Tata, Richard Branson etc. Their success stories inspired him to start his own startup. Hailing from a family business background, Gupta's family played a supportive role in helping him start his venture.
Gupta pooled all his savings from his previous job to start SparesHub.com. Currently, the venture is planning to raise angel funding, which would be used to explore new marketplace and build new technology solutions for the automobile service industry. Eventually, SparesHub.com also got selected into the acceleration programme of Delhi-based 91Springboard.
"The thrill of chasing ones dreams and the adventurous journey of a startup is very exciting. Thankfully, the startup support ecosystem in India is growing very fast and that helped us a lot. I regularly visit startup conferences and events, which inspires me to go on with my journey," shares Gupta.
Market Overview
Out of the total replacement auto parts market in India, about 26 per cent is passenger vehicle parts, 24 per cent is commercial vehicle parts, 48 per cent are two wheeler parts and 2 per cent is three wheeler parts.
"For passenger vehicles, we expect about 2 per cent of this market to shift from offline to online within the next three years. Thus, the online market size for car spare parts is about over Rs 150 crore. In developed markets like US, Europe and others about 5 per cent to 7 per cent of the retail market has already shifted online. This shift will happen in India as well," asserts Gupta.
One of the crucial challenges of this industry is counterfeit products. This is where, SparesHub's sourcing from authorised distributors and reputed suppliers come into play. "We are able to offer 100 per cent genuine spare parts to the customers. We have tie-ups with companies like Monroe (US-based brand for suspension parts) and Tata Auto Components to make their entire part range available on SparesHub.com. We have access to their dealer network and warehouses across India, so that the availability of spare parts is not a problem. Thus, by using eCommerce, a varied supplier base and automobile know-how, we are able to solve the problem of automobile spare parts across India," emphasises Gupta.
Addressing Local Consumers
The availability of spare parts is a big problem throughout India, except in the four metro cities. Therefore, SparesHub.com developed deep supplier relations across India, wherein they can source a very large variety of spare parts at best prices and pass on the price benefit to customers. As a part of its marketing strategy, the company recently launched a 'Freedom Sale' from 21st Jan to 31st Jan on its website offering discounts for automobile spare parts.
"Our USP is that we offer a large variety of spare parts online, we introduce ease and comfort of buying them online and we sell only genuine spare parts. Customer buy from us because many times they do not find the spare parts in their local market, and we bring ease and trust into the whole buying experince of the spare parts," tells a proud Gupta.
Managing Logistics
Running an efficient logistic chain is considered as one of the most crucial business aspect for eCommerce players and the logistics aggregators are playing a very supportive role to the entire eCommerce industry. SparesHub.com engages with multiple third party logistics providers for getting the products delivered to its customers' doorstep.
Gupta further mentions that some of its spare parts are very bulky like suspension systems and engine parts, which often poses a big challenge. To overcome such issues, the team is planning to come up with new solutions by working closely with logistics companies.
Government Initiatives
One of the government's key initiatives to boost the automobile spare parts in India is Automotive Mission Plan (AMP) 2006-2016. This initiative is likely to give a fillip to manufacturing of automobiles and their components in India. Gupta states that this initiative would increase the number of sellers on their website.
Moreover, the recent GST initiatives would substantially remove the hurdles in the interstate movement of goods and allow players like SparesHub.com to start a B2B (Business-to-Business) eCommerce portal in the spare parts category.
Revenue Generation
Being a eCommerce marketplace company, SparesHub.com has multiple sellers of automobiles spare parts on its website and offers all kind of eCommerce services to its sellers like online store, payment services, shipping and handling of the orders, and marketing of their products.
When asked about the revenue model, Gupta explains, "We charge for payment processing to our sellers based on how much sales SparesHub is able to generate for them and this is how we generate revenues. Currently, we have more than 30 sellers offering about over 15,000 products on our platform. We did about 400 plus transactions last month, which is growing consistently."
SparesHub has experienced a significant growth since past six months, both in terms of number of customers as well as number of suppliers. The company aims to reach Rs 10 crore mark in revenue by December 2015 across all automobile categories.