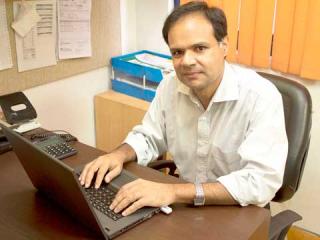 UrbanHomez is one of India's largest online portals for Home Renovation, Design and Décor. It makes hassle free connection between contractors, architects and labourers for home and office renovation, that too free of cost. From hiring of an architect to raw material collection, everything is now available online.
In an interaction with Entrepreneur India, Kapil Agarwal, Founder & CEO, UrbanHomez.com shares the idea behind conceptualising this incredibly unique portal, data collection for the same and more:
Online platforms for construction and renovation services are gaining ground in India, so how big is the market in India and what is the position of Urbanhomez in it?
The market for home & office construction and renovation is huge and is growing in double digits, due to increasing urbanisation, consumerism and frequent change in designs and trends. By 2025, it is projected to be a $100 Billion market and with the increase in penetration of internet, more and more users will depend on online platforms like us to start their home improvement projects.
In the US, one third of overall home improvement projects have shifted to online. UrbanHomez was India's first online platform for home renovation, design and décor. Today, because of our sharp first move, we are the largest platform with the most user traffic and the largest database of content, professionals and suppliers.
What is the present scenario of demand and supply gap between the builders and homebuyers? What kind of role does Urbanhomez play in terms of fulfilling the gap?
We are focused on the home and office renovation, design and décor, and furnishing market. We do not play any role on the demand and supply of houses/apartments/real estate.
There are many players who provide similar construction and renovation services online, what is your core survival strategy?
Today, we are the largest online platform in India and are confident of maintaining our leadership position with sharp focus on creating great content, which our users love. 40 per cent of our traffic constitutes of repeat users who visit our site again and again to either consume new articles and photos on design ideas, latest trends or to find the current rates of contractor services or to search for the right interior designer or supplier for their project.
What was your seed capital and from whom you have acquired the fund?
The company is self funded at present. We are now looking to raise $1.50 million over the next three months.
What made you leave the well-respected job in C1 India and take the path of entrepreneurship?
At C1 India, I was instrumental in growing the company and making it a leader in the e-auction, e-procurement and e-tendering space. Having built a successful organization for others, the next step was to become an entrepreneur and to build my own brand, to address regular issues of less availability of quality workers for renovation and construction faced by consumers and in the process, touching millions of people in the country.
When I joined C1 India, it was a four members company. Therefore, in a way, I already had the experience of building and nurturing a start-up firm. The experience made my way easy to start from ground level.
How has been your growth pattern since the inception of your company?
The going has been good. We keep engaging with our customers on a regular basis and are extremely receptive to what they tell us in terms of their preference and try our best to provide them the best possible service. As a result of our keen engagement with our customers, our traction with them has increased, which is evident from the growing traffic on our website. It has increased almost 10 times in the last 10 months.
What are the challenges that the SMEs in construction industry facing? Does the Urbanhomez play a role of a perfect trading platform for both small traders and builders?  
The construction and the home renovation industries are highly unorganised with millions of small contractors and suppliers, who don't have personal identity among the home & office owners. They are largely dependent on the middle men to get adequate work. In this scenario, online platforms like UrbanHomez.com are a great opportunity for themselves visible and showcase their skills and project executed by them.
On UrbanHomez, basic registration and creation of a business profile by a professional, contractor or a supplier, is absolutely free. They can upload unlimited number of pictures of their projects/products and reach out to thousands of users who visit the portal every day. We spot hundreds of professionals closing business on our portal every month.
How particular are you about your marketing strategy?
In the next year, we are planning to expand our physical presence from Delhi-NCR to other big cities like Mumbai, Bangalore, Pune, Chennai and Hyderabad. Besides, we would also increase the number of products that we sell from the current 250,000 to 10,000,000. Moreover, we have plans to incorporate top 100 brands from the industry on the portal. What's more, we will also build the largest database of Indian architects and interior designers.
How does your revenue model look like? What is your anticipation in terms of revenue for the upcoming fiscal year?
We have a proven business and revenue model, which is well received in the market. We have 3 revenue streams – branding and user engagement solution, targeted at the brands, premium listing services targeted at professionals and suppliers and sales commission on products, sold on our site. We are targeting revenues of Rs 5 crore for the next fiscal year.