How Hippocampus is making pre-school education affordable for rural India
Malhotra started Hippocampus Reading Foundation as a non-profit organisation, with the goal of inspiring underprivileged children to read for fun.
Tags: Hippocampus Learning Centres, GROWBY reading programme, Acumen Fund, Lok Capital, education
BY Aparajita Choudhury | May 08, 2015 | COMMENTS ( 1 ) |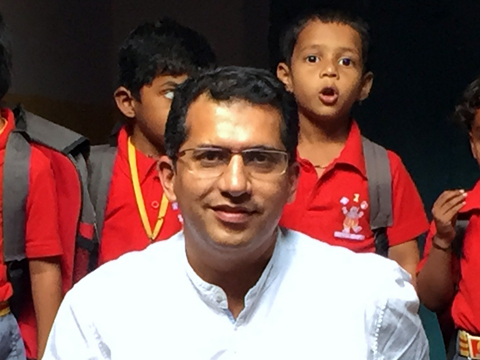 Umesh Malhotra
founder CEO, Hippocampus Learning Centres
During the 9 years' stint at Infosys in US, Umesh Malhotra lived in the Bay Area of California with his wife and five year old son. Both Malhotra and his wife love reading books. Hence, they were drawn to the local public library, where they liked the children's section, which besides being well-stocked with books had a variety of activities for kids.
When the couple returned to India, they realised that public libraries in India are not known for their user-friendliness. Bibliophiles either buy books or visit private lending libraries that function as rental stores for periodicals and paperbacks. School libraries depict a picture of asymmetry in the categorisation of books (majority of them related to academics).
Malhotra drew up a business plan for a new kind of children's library, which would compete with videogames, television cartoons and other digital distractions for a city kid's free time. They named the library as Hippocampus that governs learning and memory formation. In 2004, Malhotra started Hippocampus Reading Foundation (HRF) as a non-profit organisation, with the goal of inspiring underprivileged children to read for fun.
Malhotra is a graduate of IIT Madras. At a young age of 33, Malhotra left a flourishing IT career and decided to dedicate his time and energy to improve education for poor. Prior to starting Hippocampus Learning Centre (HLC), he used to run his own IT venture Bangalore Labs for 3 years.
"In 2007, we started to colour code the books in the catalogue of the Hippocampus library, and in 2009, we started the GROWBY Reading Programme, which was first implemented in a village in Chitradurga, Karnataka. Post a lot of deliberations, our team eventually decided to pursue the idea of education centres for rural India," says Malhotra.
Spreading Wings
The popularity of GROWBY Reading Programme started spreading across other cities and states outside Bangalore, reaching out to more than 45,000 children across 95 government aided schools. Today, the programme is implemented in more than many hundred schools in the country across the country. The programme currently operates in 10 countries around the world and is also operational across India – from Ladakh to Nagaland to Tamil Nadu. The programme is available in 5 languages – Hindi, Kannada, Tamil, Urdu and English.
Expressing victory over the initiative, Malhotra shares, "GROWBY installations can be found in projects and schools supported by leading organisations – like Room to Read, Teacher Foundation, Michael and Susan Dell Foundation, Azim Premji Foundation, Swami Vivekananda Youth Movement (SVYM), Grey Matters Capital, Akshara Foundation, Makkala Jagriti, Round Table India, and the Arcot Lutheran church. The GROWBY reading programme has become synonymous with libraries for first generation learners in the country."
Laying Foundation
Starting operations in Mandya in 2011, Hippocampus has ventured into Davangere, Channapatna, Maddur, Shimoga and soon have plans to expand to other parts of Karnataka. The centre provide quality, affordable, community-based kindergarten and after-school primary education services in rural India, while simultaneously creating employment opportunities for women in rural areas by hiring them as teachers. HLC aims to increase access to quality early childhood education in rural India and bridge gaps in the local education system.
Hippocampus believes that lack of pre-primary education affects the quality of education in primary schools. The Right to Education Act only defines education as a universal right to children at the age of 6-14 years. Therefore, Pre-primary education is largely neglected by the government, private and non-profit sectors. A few providers of pre-primary education are private companies, which cater to relatively wealthy middle class urban population.
Walking Extra Mile
When HCL started its operation in Mandya, there were only 17 centres. But today, it has 150 centres with 5,000 pre-schoolers and 350 teachers. "We are pleased with the growth we have had in the past 4 years. We see parents happy to send their children to Hippocampus. We are constantly working towards improving the quality of education in rural India," points Malhotra.
In June 2010, the company managed to raise an angel round of funding of Rs 1.8 crore to implement the project and in June 2011, HLC launched its first set of 18 Kindergarten centres and 24 After-school centres reaching out to 700 children.
In 2012, HLC raised a sum of Rs 4 crore in Series A funding from Acumen Fund, Lok Capital and Unitus Seed Fund. These funds have been utilised to help HCL expand operations from 17 centres to nearly 100 centres. In 2014, it raised a total of Rs 17.25 crore from Asian Development Bank, Unitus and Khosla Impact fund.
Bringing Affordable and Quality Education
Hippocampus' services target the poorest of the poor and extend their reach to the most rural areas. Its low establishment and material costs make its services very affordable for BoP (Bottom of Pyramid) consumers.
"The teacher selection process helps us identify quality teachers. Our teacher training model is structured to provide, both pre-service and in-service, training to teachers in locations that are convenient for teachers to travel to," says Malhotra.
HLC has developed a method of assessment – the STEP method – by which children are rated according to their level – the starter, tentative, excellent or par-excellent levels. An analysis of these assessments every month highlights problem areas and then addresses the same to maximise learning outcomes for students.
The centres are rooted in the heart of the village, use local women as teachers and are easily accessible to children, especially young ones in Kindergarten and supported by the community.
Setting a Goal
The Indian education system is growing by leaps and bounds as it witnessed biggest transformation in the number of school enrolments reaching close to 97 per cent. But the next question is – Whether the learning is really happening in the schools?
Expressing concern over the quality of education, Malhotra emphasises that the government needs to work on mandating Kindergarten. Many countries are moving to mandating 2-3 years of pre-school and it's time for the Government of India to move in this direction too.
As a part of the expansion strategy, Hippocampus plans to expand their reach to 700 centres by 2016. The firm has also set a goal of ― Mission FINLAND, wherein they intend to reach out to 200,000 pre-school children in Finland at 1 per cent of the cost by 2020.
Please add your comment
ashish garg
May 09, 2015 at 10:13 am
Umesh Loved the pictures of hippocampus kids. Congratulations on making a go at one of the toughest segments in K-12 education. Would like to talk more about this, let me know if you come to Delhi. Rgds - Ashish
Reply |