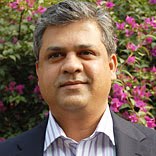 Guy Kawasaki, in his book, 'Rules for Revolutionaries', had stated that "People who are crazy enough to think that they can change the world, are probably the most likely to do it". And after knowing Mr. Chetan Indap's entrepreneurial journey you'll agree that he stands in the same league of people who are crazy enough to bring about a change and stand by it.
AP: Why did you choose business over service? Throw some light.
CI: I ventured into business at the age of 23 (1991) witha dance class along with a friend; 'Jazz Club' as it was called. But that did not generate enough money so within a year (1992) I started another venture, Lazer Network Communications, which manufactured Dish Antennae (Satellite dish was his final year Engineering project). While Jazz Club died a slow death, Lazer Network was sold at a profit.
Subsequently with marriage on cards I took up the corporate life. In 2003, after 5+ years stint in US and UK and having climbed the corporate ladder from Director Of Sales to Country Manager UK & Europe, I decided to return back to India. I chose to become Independent Consultant (started 9am Consulting in 2003) in the area of IT Services, and Sales & Business Development. In 2007, I helped my wife start her own venture in early childhood education and foray into 'Phonetics'.
Today Phonickids, is over 650 students strong with total 3 centres in Mumbai. And I have marked the current year by starting Joule Consulting Pvt.Ltd and launching its first product StaffOnContract.com.
AP: Tell us about your company? How did the company come into existence? 
CI: Our company is called Joule Consulting Pvt.Ltd. Joule is the scientific unit of measure for 'Work' & 'Energy'. Our first product is 'StaffOnContract.com', a digital marketplace for finding and on-boarding Contract staff for a specified period of time. It is a B2B portal that connects companies that need Contract staff on immediate basis (Demand-side) with companies that provide staff (Supply-side). Our supply-side consists of over 600 small to medium (SME) companies and over 1500 Independent Consultants (individuals who wish to work on Contract basis).
The concept of this business came from my own experience of being in this domain for the last 20 years.
a.    I have been doing Contract staffing in USA, UK and India and found that the current market was very unorganized and there was no single platform where the demand and supply-side could transact business in a faster, better and cheaper way
b.    I have lived life of an Independent Consultants since 2003 and have realized how difficult it is for individuals to find projects that match their expectations of work type, location and charges. Hence the formation of the company to address the above two problem areas.
AP: What is your business model? What is your product line? (offering) 
CI: Our business model is annual subscription based. Demand-side companies subscribe to our portal and have unlimited access to the candidates profiles and ability to dialog directly with the supply-side companies. The supply-side participants enter our portal for free. While this is the base platform, our product provides various value adds that makes the Contract staffing hiring experience easy and rich for all parties involved. Some key ones are listed below:
a.    We have a rating system enabling the demand-side to rate supply-side on their performance. This will help supply-side to improve and subsequently help demand-side to negotiate based on the rates.
b.    We provide Match percentage of the profile match to the requirements. This allows you to clearly see the best matched CVs in a descending order of match.
c.    We are encouraging the candidates to put their 'Video CV' for Demand-side to get a quick view of the softer skills and opportunity for the candidates to present and differentiate themselves properly
d.    Pan-India coverage making it simple to look for local resources for quick on-boarding
e.    Empanelled Vendor Management: enabling demand-side companies to manage their contracting vendors in an automated way
AP: How has the company grown under your able guidance? What has been your strategy to bring it to this level since inception?
CI: We started working on the StaffOnContract.com project in Oct of 2010. I had just one person who helped in business analysis and the software was outsourced to another company for development. Today we are 8 people strong with roles covering Head of Technology, Head of Sales, Head of Project Delivery, Software Development team, Strategic Alliance, Accounts & Finance. We have gained a few customers within 2 months of our launch and a healthy pipeline of prospects.
I think the biggest achievement from strategy stand-point was to get on board good set of people, who would self-drive the engine further. Today I am absolutely confident that even if I do not expand my team further, my current team will be adequate to take the company to the next level. Our other strategies literally get formed every other day and scrapped or modified every other day!!
AP: What is the biggest challenge you have faced so far while operating in this sector in India?
CI: In this sector, we have to deal with the HR community, specifically Talent Acquisition teams. Unfortunately this community works under tremendous stress levels at all times trying to meet objectives of multiple stakeholders. So over a period of time, every talent team develops its own internal processes that they feel comfortable with and which work for them. This creates huge resistance to change and to adopt deviations from the status-quo. Since StaffOnContract.com necessitates some mindset change and potential changes in standard operating procedures, we face push-backs to our proposition initially. It is only after that we demo our proposition or allow them to try our system for a week or so that they are able to align with the value and the benefits it can accrue to them vis-à-vis the efforts required to slightly modify their existing approaches.
AP: What have been the key marketing and brand building strategies for your business and how do you define your USP?
CI: Since we are an Internet driven company, our major focus will be through online advertising and social media marketing efforts. In addition we will be participating and speaking at various HR forums across India to directly communicate our message to the actual customers. Educating the community the benefits of adopting an organized platform like StaffOnContract.com will be our major thrust in the initial few months. Big-bang Marketing is always a confusing area; while conceptually it sounds great that once you have a full page AD in one of the National Dailies, it will create an instant buzz, make the concept visible to almost all potential customers, will reach masses etc. However, it is the one of the most expensive method of Marketing (after TV) and works on 'Make it OR Break It" ROI.
Our USPs are as following:
1.    We the only B2B Marketplace for Contract Staffing in India
2.    We are the only portal to introduce a rating system
3.    We will be the only portal to introduce 'Video CV' concept
4.    We are the only portal that aggregates Small Medium Enterprises (SMEs) enabling delivery of 'Employee as a Service'(EaaS) Cloud
AP: What is your growth plan for the company? Do you plan to diversify or integrate your functions? (forward/backward integration)
CI: We have made growth projections of Customers, Sales, Costs, Profits over a 3 and 5 year term. We have also made best case & worst case scenarios projections. While these plans are helping us focus on our objectives, we are seeing newer growth opportunities unearthing everyday. We do however have concrete plans of parallely releasing solutions that have both forward & backward integration with our base platform with an aim of covering the entire Contract Staffing Ecosystem.
AP: What would you have been if not an entrepreneur? Why?
CI: Probably a Sanyasi based in Himalayas! Where there is no object to live urban life and just ensure daily meals by giving Aashirwads!
Interestingly, when I was an employee and not an entrepreneur in a formal way, I was successful in my job, sheer because I operated like an entrepreneur! So I guess entrepreneurship is a state of mind rather than a profession!
Somehow people associate entrepreneurship with wealth generation, but in my definition entrepreneurship is the freedom to do what one likes; at ones own terms and creates a potential to generate wealth.
AP: What is your word of advice for today's entrepreneurs who would like to enter into this Industry? What investment is needed?
CI: Contracting sector in India is on an exponential upward path, especially in the organized sectors. Within IT itself, from the current base of over 25,00,000 professionals and growing at 17% YoY, the prospects of Contract staffing stands at over 25% translating to over 7,50,000 individual Contractors. There is a huge scope for SMEs to enter into the Contract staffing domain. We are seeing huge interest & intent from the permanent staffing consultancies to foray into Contract staffing. With StaffOnContract's help, they can easily get into this business at no capex. There is enough business out there for them to gain. In the longer term however, SMEs that are able to deliver clear value and differentiate themselves will win the race. Value could be in terms of developing their own internal Training programs to ensure that the staff they deliver is well trained both from soft and hard skills perspective. Differentiation can come from specializing in select set of skills or domains and work towards becoming amongst the top 3 players in their chosen area.