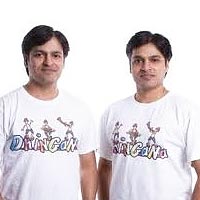 How did Dhinagna start? Give us a brief glimpse of the highlights of the journey so far.
The idea for Dhingana was conceived by my twin brother (Swapnil Shinde) and I (Snehal Shinde) in the year 2007. We both are complete Bollywood buffs and love Indian music.
Back then, there weren't any reliable Indian music-streaming services that could work across all platforms and provided users easy and legal access to Indian music. This is when we decided to start something on our own and to make a business out of our passion. Thus, we decided to start Dhingana. 
Before Dhingana, my brother Swapnil and I were Senior Product Managers at Yahoo in Sunnyvale, CA, USA.  We worked at Yahoo together and built Dhingana in our spare time during nights and weekends. We started Dhingana from our own savings and bootstrapped it working late nights, after our day jobs, for the first two years.
How has the music ecosystem in India evolved over the years? Where does the future lie?
We believe that the rise of digital music, powered by Internet, has mostly been beneficial for the music industry. The only 'bad' that has happened is the dwindling sale of physical music in the form of CD's and cassettes and with the evolution of technology, the ease of sharing music did result in piracy. But with recent crackdowns on pirated websites and with streaming services like ours that offer music at low or no cost, even that concern is being taken care of.
On the other hand, Internet has helped everyone in the music ecosystem by removing the bottlenecks in music distribution – from customers to music labels to artists. It has helped the music labels by expanding the market and enabling them to reach new markets across the globe. For artists, it means a much larger audience to develop music with varied tastes. For customers, it means the ability to access all kinds of music from across the globe without even stepping out of their homes.
The new era of music consumers are here. Streaming music services deliver a billion song streams per month, and pay as much as $50M in licensing costs. These numbers were unimaginable even a few years ago.
Tell us about the reasons behind the shutdown of Dhingana?
We were in a quiet period during the transition phase of this acquisition. The reason we took our products down was because we knew post-acquisition we would be working as a single team under the Rdio brand. We didn't want to maintain two different products to achieve the same goal. It was a conscious decision.
What are the synergy/competitive edge gained from this acquisition?
Dhingana was the biggest Indian music streaming player with 10-million active unique users per month and licensing deals with 900+ music labels. Dhingana team has experience in pioneered online music streaming in the Indian markets. Rdio intends to build on Dhingana's success and expand in the Indian markets.
Why do you think innovation is the most important factor for a start-up to survive? Why large organisations are constantly on the hunt for start-ups?
Start-ups are typically focused on a single problem and iterate really fast to achieve the best product-market fit. This allows them to stay focused and innovate faster. They tend to have smaller teams and hence, it is easy for everyone to get aligned on the company's vision and work towards a unified goal.
On the contrary, a large organization tends to have bigger teams, more bureaucratic culture and it becomes hard to move faster. Hence when a larger company gets really serious about a certain space or market, it might be cheaper and more optimum for them to consider acquiring a successful start-up in that space rather than reinventing the wheel.
By acquiring a successful and nimble start-up, they also get fresh blood into the company and can speed things up and help them to achieve their goals faster.
Give us a brief view about the overall scenario of M&As in India.
India is a tremendously vibrant market for music and culture and one of the largest and most important in the world. Many larger companies are looking at start-ups in India for acquisitions because of this.