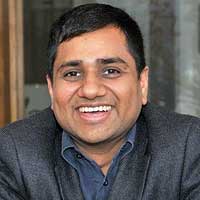 In an interaction with SMEntrepreneur, Ambarish Gupta, CEO and Founder, Knowlarity Communications, talks about his business expansion and current market scenario.
What is the present scenario of the hosted telephony services market in India? What is your market strategy?
Hosted telephony is moving towards market consolidation in India with some of the early market entrants either quitting like Voicegain or merging with established players like Knowlarity Communications. We expect the cloud telephony market to narrow down to one or two big players in India. Selling to Indian SMEs is a tough proposition for most cloud telephony companies because of the lack of awareness in the market and the paucity of funds in the SME segment. Investors are also not so keen to fund cloud telephony companies because of the lack of traction in the market. We have embarked on a course of aggressive domestic and overseas marketing and rapid innovation to survive in the market. We have operations in 65 countries abroad with offices in Singapore, Gurgaon and Bangalore. We have also invested heavily in our research and development capabilities.
What are major challenges for you?
There are over 14 millions SMBs in India operating in tough conditions characterised by a chronic lack of infrastructure, funding and market opportunities. The fact that they have managed to flourish in these tough conditions is a mark of their ingenuity and resourcefulness. Owning to these conditions, the SME segment has traditionally remained shy of opting for the automation route, trusting manual note-keeping and ledger-based systems. The biggest challenge so far is weaning these SMEs off manual systems, and attracting them towards automotive systems. So far, there is little market awareness on the various benefits of cloud due to which businesses have a hard time convincing clients. Indian SMEs, have to work with limited budgets, unlike their counterparts abroad, making new technology investments a tough proposition.    
 How do you find India market in terms of growth as compared to other countries where Knowlarity operates? What are the key growth drivers in India?
The international market is growing rapidly because enterprises there can pay easily as they have good budgets. In India, SMEs operates on leans budgets, making any new technology investment difficult, hampering growth in this segment.
Some drivers for growing hosted telephony market in India are increasing Internet penetration, next generation networks and increasing base of smartphone users and applications. The companies offering state of the art technologies and better subscriber experience will win the race.
What is the traction of Indian SMEs towards hosted cloud telephony services? Do they have the proper know-how in terms of deploying these services?
The traction in the SME segment is low because it is not a tech savvy one. Start-ups operating in this space have to invest a lot of time in educating customer on the various benefits of hosted telephony services. Since there is a lack of awareness in the market, the uptake of hosted telephony products and services in the market is less than satisfactory.
How do you enable small businesses to shift from conventional business communication infrastructure to cloud-hosted telephony with its existing expenditure?
The Indian SME segment is very cash-sensitive. Cash is the operable word here. This is because the average Indian SME owner has little spare cash as most of it is invested in his operations. In such a scenario, a subscription based, pay-as-you-go model has a better appeal than one based on making upfront Capex investments. We provide the most comprehensive communications platform covering fax, telephony, IVR and conferencing on the Amazon Web Service platform. Since we operate in a cloud environment, there is no Capex involved. Even Opex is manageable because most of the day-to-day management of IT systems is undertaken by the hosting company. Clients become consumers of IT systems rather than its users.                 
Recently Knowlarity has raised Rs 93 crore for business expansions in overseas, to what extent it will impact the revenue?
The overseas market is important to our operations. We hope to make deep inroads in the overseas market, which will strengthen our revenue stream in the following months.
What are your predictions in terms of revenue for this fiscal year?
We are confident of crossing Rs 75 crore in gross sales this year.