Aim to disrupt the payment landscape in India: Anish Williams, CEO, TranServ
TranServ works with more than 6,000 business correspondents across 26 states, especially in the rural areas.
Tags: Anish Williams, TranServ, digital payment, rural area, financial inclusion
BY Aparajita Choudhury | October 29, 2014 | COMMENTS ( 3 ) |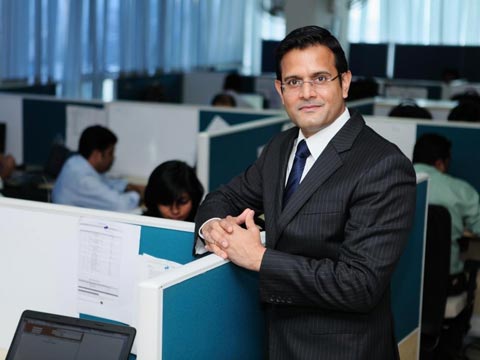 Anish Williams
CEO, TranServ
TranServ, a 4-year old firm that focuses on prepaid payments programme management, uses electronic banking and prepaid solutions to overcome payment bottlenecks for organisations and individuals.
In an interaction with EntrepreneurIndia.com, Anish Williams, CEO, TranServ Pvt Ltd discusses more about its customised payments solutions for organisations and unbanked rural populations:
With the birth of electronic banking, Indian banking sector has witnessed a huge transformation. What are its advantages and disadvantages?
The banking and finance sector in India is going through a digital transformation at an unparalleled pace. Various programmes, including the Pradhan Mantri Jan Dhan Yojana (PMJDY), have been recently rolled out in the country to incorporate technology with banking services. Another such programme is the Digital India Programme, which aims to transform India into a digitally empowered society and to start operating all processes on the web. Electronic banking is offerings business houses, end customers and other stakeholders a higher degree of convenience, security and also help them create an audit trail. However, electronic banking opens up new risks and cybercrime needs to be tackled.
What are your customised payment solutions for various organisations and individuals? How TranServ will ease the mechanism of electronic banking?
Driven by a vision to alter the payment landscape in India, TranServ is the fastest growing transaction processing and prepaid payments provider in India. We offer customised solutions to help organisations manage channel payments, benefit distribution, customer payments, employee re-imbursements which are designed to make the transactions secure whilst offering increased control, transparency and cost-effectiveness. While most of these programmes are designed and managed by TranServ, the same are executed in association with our partner banks and could also be offered as a Visa or RuPay Associated Card Program. For individuals, TranServ has devised general purpose reloadable cards and mobile cards to assist them with online payments solutions. The state-of-the-art mobile technology ensures that transactions are user friendly.
Who are your target customers?
At present, we are primarily targeting corporations to set up their payment and collection infrastructure catering to employees, channel partners and customers, and retailers to equip them with Digital Wallets for cashless transactions. While we have acquired a significant customer base since our inception, we have also encountered a fair amount of challenges along the way. Due to the inertia of using traditional or offline transaction methods, the transition towards adopting the new age digital and online methods of financial transactions is slow. Moreover, security continues to be a key issue for stakeholders, with the general consensus being that one's personal information is at risk while making digital payments.
How different is Shmart! Pay payment solutions from debit and credit cards? What are the key benefits of using multiple-purpose reloadable card?
TranServ's payment solutions are offered under its flagship brand, Shmart!Pay, for both—individuals and organisations. One of the products for individuals is the multi-purpose reloadable card which allows customers to preload a desired amount to their card and spend according to their convenience. This service can be easily availed by those individuals who don't have access to conventional banking products. The ease and convenience of a credit card as a money-on-the-go option is something that a large number of Indians do not opt for. The reason, more often than not, is the fear of interest charges and a very intrinsic Indian aversion to debt.
Do you think that your rural market will be affected by recent Jan Dhan Yojana initiated by Indian government?
The PMJDY is becoming a driving force for the banking sector in an economy like ours. It has already provided banking and insurance coverage to more than 5 crore bank accounts by October 2, 2014. It will certainly boost the GDP significantly as the programme will lead to reduced leakages, better tax collection and improved savings. Firms like TranServ provide the unbanked population an integrated access to sophisticated financial products like banking facilities, account opening, availing credits, micro insurance and pension alongside the proposed direct transfer of benefits which will only heighten the need for the use of innovative technologies within the system. We closely work with more than 6,000 business correspondents across 26 states to reach out to more number of people, especially in the rural areas.
In the entire financial transaction, do you also face tax hurdles?
We operate in accordance with the guidelines of the regulatory authorities for taxation as well as those of the RBI and have not faced any tax hurdles.
On the business side, your financial solution is a big hit. How big is the market in India? What is your USP?
TranServ offers a fully integrated interoperable digital wallets in partnership with banks combining their Payment Gateway services. Our offering has the capability to switch transactions through VISA/RuPay, thereby leveraging the existing infrastructure in the market. We believe that there is a scope to eventually tap into a substantially large base of potential users for digital transactions. According to the RBI, only 40 per cent of the country's population is banked and only 30 per cent of the banked population use digital payments as a mode to transact. Given the low level of penetration and the increasing usage of various digital and online based payment products in the marketplace, TranServ along with other firms has a huge latent opportunity in terms of migrating the offline and cash transactions onto the digital medium.
Coming to small business, do you think that your solutions will be a big help for MSMEs? If yes, then how?
With improving digital connectivity – both wired and wireless – MSMEs are now beginning to access a host of cloud and web based services. According to a recent Circle Research Global Report, 90 per cent of Indian SMEs believe technologies like cloud are important for enhanced business growth, better innovation and for doing things in a faster, smarter and in a more sustainable manner. The total sector size is expected to reach $88 billion by the end of 2017 and hence, Indian SMEs will eventually turn to smarter technologies for improving operations and efficiency.
Are you planning to expand your banking partner base?
TranServ is very happy with its strong existing relationship with its partner banks and continue to look forward for value additions using these partnerships, which will in turn help us expand our market offerings.
Please add your comment
salil k
November 02, 2014 at 11:31 am
Congratulations Anish, Aditya, Amar, Sandeep, Anand and the team! Good to know the way we are doing and feel proud to be part of this team.. however shorter the stint.. enjoyed it !!! All the best!
Reply |
wajahat
November 01, 2014 at 10:11 am
Congratulations Anish and all at Transerv
Reply |
Praveen Laungani
October 31, 2014 at 4:11 pm
Way to Go!
Reply |