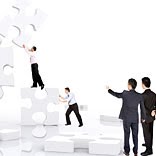 A startup is always characterized by a crooked route. There are multi disciplinary things that need to be taken care of, ranging from creation of the right business entity to forming a structure for the organization as well as building a market standing in front of the consumers. Though there are very many things that need attention, through an extensive research we have come across seven pointers that will help you err less and grow sustainably through your commencement phase.
1. Don't venture out all alone
The worst startup gamble would be to begin alone. Though you have confidence in your idea and self belief to manage the show all by yourself- but the message that gets across is that you weren't able to convince anyone to join you. So if you have a workable plan in hand then rope in your friends, build a team, because if it's really a bankable plan then it will be contagious and as you move forward, the people around you will grow in number. Take this as the first sign of prosperity for your business and build your organization's spirit and culture around its people.        
2. Giving your business location edge
Each location has its strategic advantage- for the raw material, human resources, utilities and the list can go on. It is because of this reason that certain locations work wonders while other fall flat on the ground.  For a manufacturing unit, locating it around the core raw material will be most advantageous, for trade ventures nearness to transportation line will be the focus of searching a location. In case of services providers who directly deal with consumers, it is important to have location advantage which will bring in footfall. But, if you are starting an IT venture, then the best is to begin from home, scale your operations and then build your office space as per requirement.
3. Marginal niche can be a tricking route to tread
Building a niche is crucial for a startup; they need to provide a new idea, concept, product or service for their consumer. But the route attached to this gets treacherous when the idea gets replicated mid way or even worse when there isn't probably a niche in the first place. Most startups build on obscure niche ideas in order to be save themselves from competition.  Hence it is better to build a parallel service to existing niche plans rather than building sub standard or cheaper options. A very good example will be that of Twtbuck and Google Ads; those have not probably build a niche but have cashed in the value of Twitter and Google by creating complementary businesses around them.
4. Avoid obstinacy or stubbornness while ideating
At the starting point, you can't afford to be too rigid with your game plan, the situation might demand that you change and adapt to exist. Most players stick to their initial value without making any survival adjustments. Such obstinacy may not work at the nascent stage, so if your plan A is not working well in the business environment; the best would be to hop on to plan B or to go for a complete overhaul.
5.Hire with an intention to retain
It is not a new phenomenon that people form the core of any successful venture, you can have a brilliant idea but an average team can spoil your business pie.  But if you have a basic plan and a dedicated team, you can grow exponentially and keep churning out great plans. For a startup, the most difficult task is choosing your first team. Most people hire friends and other likeminded people and treat them as partners; this often helps bring out the best in everyone.
6.Manage your investments astutely
Most of the startups need outside money at some point of time, either while building their capabilities or while scaling their business. Thus, when taking money from investors it is important to maintain the balance because both scarcity and excess of cash flow as either can be dangerous. While lesser amount can handcuff all your major plans, at the same time when there is plenty, changing directions cannot be as easy as it was earlier. 
Also once you take several million dollars of my money, the clock is ticking. If VCs fund you, they're not going to let you just put the money in the bank and keep operating as two guys living on ramen. They want that money to go to work. This would include hiring more people and increasing the number of employees and thus reduction in the commitment ratio of the organization. Another drawback of large investments is the time they take. The time required to raise money grows with the amount.
Concluding note: In the end the key to success is not measured or counted, you can bring up the simplest ideas as successful business venture when you pool all your efforts and resources into it. A half-hearted effort will never bear fruits- no matter how efficient or effective your business plan is, so its mandatory to put your heart into your business, and use your mind propositions to scale it further on beyond the horizons of survival.