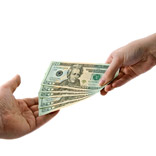 Often entrepreneurs are so excited about their idea while starting a business that they do not think of chalking a proper revenue model for their business. This is more relevant for entrepreneurs, who have portals or websites as the chief form of their business.
The pressure of building an audience and sustaining the business is so much that one hardly realises that the savings, which was used to fund the business is depleting and ensuring steady cash takes a back seat.
For a business to be profitable and sustainable, a revenue model is a must. So give a thought to 'who should pay for your business?'
There are two basic methods you can follow: make the user pay for the product or the service or advertisers or marketers pay for it.
Vijay Shekhar Sharma, Founder and Managing Director, One97 Communications (P) Ltd says, "Customers' money is the best source of funds. So you must offer what customers will pay for." This will also ensure a positive cash flow for your business. If your customers are paying for your product or service and you have a client list of more than two customers at least investors will also feel better in investing in your business.
The second option is to make the marketers and advertisers pay. But this is not going to be a smooth sailing. As a start-up with little reputation, why will anybody rely on you? Your business idea and the quality of your product or service should be so convincing that it should make people take out some money from their wallet.
There can be other ways of getting money for your business like revenue sharing model and other innovative models.
So, either chalk out an innovative revenue model for your business or follow one of the existing ones, but do not start up without one. Remember, you have taken the plunge to make profits and not for philanthropy (even philanthropy has to be suitable)!