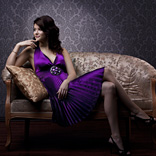 If the fashion industry has molded itself according to the desires of women, women have also left no stone unturned in shaping the industry. With their natural sense for aesthetics they have pioneered several new concepts of business in the fashion industry. The industry which largely comprised dress designing earlier has now expanded and jewelry, footwear and accessories have become equally important. 
Here we bring to you some of the leading ladies of the fashion business, who have made significant contribution to the industry.
Entrepreneur: Poonam Soni
Brand: Poonam Soni
Quote: "Perhaps it's the positivity in my nature that helped me sail through all the difficulties."
When Poonam Soni started her jewellery company, the industry ran on tradition, limited to gold and silver, which ladies inherited from their mothers and grandmothers. It meant mere investment to them. But this was not the way Poonam thought about jewellery. 
"Jewellery is not just an investment but a work of art, which involves a whole lot of craftsmanship and creativity. The kind of jewellery one wears reflects the individuality of a person," says the proud owner of the brand Poonam Soni.
She broke this traditional mindset. She was the first to introduce the concept of 'bespoke jewellery' and signature boutiques in the traditional Indian jewellery business, which was otherwise very big.
Soni's entrepreneurial journey in the fashion business is full of first time achievements. Not just did she pioneer the concept of customised jewellery in the country but she is the first in the country's fashion segment to have patented her work.  
Born with artistic sense, which she probably inherited from her mother, Poonam was naturally inclined towards jewellery business. "I would draw pieces of jewellery in my notebook at school," tells Soni. In 1980s, license raj ruled and the jewellery business required license. "But soon the economy opened and policies became more entrepreneur- friendly. That was the time I chose to start off," recollects Poonam. Today, she has grown to have several national and international outlets.
Soni's experimental initiatives have earned numerous accolades. One of her exclusive collections Monochrome, which enclosed miniature canvas paintings by artist Laxman Shreshtha, took her to an LVMH (full form if any???) group event in Paris and was also listed as Global Trends 2009.
As a woman entrepreneur in the fashion business the main challenge that Soni faced was the closed mindset of the people. "Apart from these I faced the usual roadblocks, which a pioneer in a particular area faces," she says.
"In hindsight when I think of the barriers that I have crossed, the trends that I have set and the accomplishments that I have to my credit, I am amazed at myself. I do not know how I did it. Perhaps it's the positivity in my nature that helped me sail through all this, says the lady who is content with the mark that she has set in the fashion business.
Entrepreneur: Swati Mehrotra
Brand: Swati Modo Creations (P) Ltd
Quote: "When people ask me why shoes, I ask them 'why not shoes?' After all every girl has a fetish for them."
She always believed that footwear reflects a person's personality quite profoundly. Armed with this belief Swati Mehrotra started off with her entrepreneurial journey.
"When people ask me why shoes, I ask them 'why not shoes?' After all every girl has a fetish for them," says the founder of Swati Modo Creations.
The brand not just designs shoes but customises  them to suit the needs and emotions of individual customers. Swati Modo started as 'Shoe Maestro'. The collection was displayed in J.W.  Marriott in Mumbai in October 2007. The collection was a success in its first display and Swati got a lot of orders. "The first order that I got was from the Rajasthani folk singer, Ila Arun. It was extremely motivating," says the young entrepreneur proudly.
The list of celebrity clients does not end here for Swati. "Ex Miss India and choreographer, Liza Varna was my first client at the Ghaziabad Studio of the Creations," she announces. But for Swati the biggest landmark is Swati Modo's participation in Wills Lifestyle India Fashion week and Fashion Week.
Swati is one of those lucky entrepreneurs who have a family that supports her entrepreneurial aspirations. "In fact my mother who was previously a house wife does a lot of managing work in my laboratory," says the alumnus of the Footwear Design and Development Institute, Noida who has set up a lab to work on her passion.
Her passion for footwear is so intense that she has penned down a "Shoeology". Sheology is the study of footwear type vis-à-vis the personality type, the mood of the person or the occasion when it is worn. For example, someone with a taste for flip flops might be high on energy or someone who is very devoted to their near and dear ones. Girls preferring pointy shoes are known to be very responsible, charming and experts in crisis management.
It is not just glitz and the glamour that interests Swati. Apart from the world of glamour and glitz Swati also understands her social responsibilities. "I have trained the inmates of the Tihar Jail in shoe-making during a vocational training programme so that when they are released after service either term they can earn their living," says the designer who also designs for people with disability in their feet.
In the quest of producing fashionably comfortable shoes and expanding Swati Modo through franchising and self managed stores she says it is not easy to strike work-life balance. "It's not easy to avoid getting struck by the glitz and glamour of the industry," she says.
Entrepreneur: Nina Lekhi
Brand: Baggit
Quote: "Entrepreneurship is a conflict in life between what you love to do and what you have to do."
Nina Lekhi's quest to become a designer began as a challenge to prove her mettle to her teachers in college. Nina who studied in Sophia Polytechnic was told to stay away from her classes in college until she cleared my first term exams. "I took it as challenge and decided to prove myself," says Nina. Not just did she become a designer but the proprietor of a premium brand of bags, Baggit and has voted as one of the 50 powerful business women of India by Business Today, 2007.
Baggit, the company whose name is inspired from the famous  Michael Jackson song "Beat It", was created in 1983 and now has exclusive brand outlets (EBOs) in several cities across India as well as overseas. "My father was a little worried as the business of bags entailed traveling to unheard places in search of raw materials, but my mother was very supportive. Infact, I borrowed my initial Rs.7000 from her," says the entrepreneur who started with hired freshers and neighborhood tailors for the stitching of bags. "I managed everything & used my house for warehousing," she adds.
Baggit produces a variety of trendy and fashionable handbags, wallets and mobile pouches targeted at women. But Nina does not believe only in making money. Being environment friendly is a top priority for her. "We believe in beauty without cruelty i.e. all our products are non leather," says the founder of the brand which was felicitated by PETA (People for the Ethical Treatment of Animals) with the 2007 Proggy Award for manufacturing non-leather products.
Her expansion plans also include concern for rural areas and environment. "We plan to have a composite unit in rural areas. This will generate employment and enable villagers to live in cleaner and greener spaces. The effort will also help us keep costs and prices down and thereby reaching out to more consumers in India," adds Lekhi.
How is it to be an entrepreneur in the lifestyle business? Nina sums it up extremely well, "It's a conflict in life between what you love to do and what you have to do.
You may party all night, but then gear up for a business meeting next morning."
Entrepreneur: Ishita Swarup
Brand: 99labels
Quote: "I just do not know any other way of being but entrepreneurship."
Ishita Swarup has introduced an innovative concept to the world of fashion business in India. Her venture, 99labels is an online retail shop that allows users to buy fashion-wear, accessories and lifestyle products. They have partnered with national and international brands and sell their products at prices discounted up to 70 per cent of original prices.
Swarup had taken a break after selling her previous company, when one of her friends came up with idea of 99Labels.She could just not help being excited and taking the plunge. They co-founded 99Labels. "I just do not know any other way of being but entrepreneurship," she informs us.
The website which has already sold designer labels like Ritu Kumar, Ashish Soni, Satya Paul and Rocky S is a business concept from France, which has been worked upon to suit the market in India. It offers payment options like cash on delivery, internet banking and credit card.
Ishita's interest lies more in building a good website with good product offerings for the customers rather than just attaining monetary gains. "Our client base is not limited by geography. It extends for people in big cities of the country to smaller places like Patna and Guwahati to outside the boundaries of India. While people in bigger places choose to shop online because of the hectic lifestyle those from smaller places do not have access to designer labels and big brands," explains Swarup. She proudly adds, "One out of every four customer comes back for purchasing."
To feel pulse of the customers and to estimate what quantity of products should be put on sale is the challenge of the business for Ishita. "It wasn't very difficult for us to get the brands partner with us. After we got a couple of brands to work with us, the others followed suit," she says.