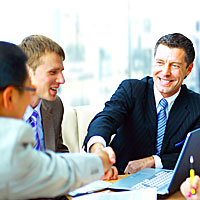 THERE was a time when start-ups in the energy sector were unheard of. Today, with favourable policies for renewable energy businesses, we are seeing a new breed of entrepreneurs who are more socially conscious and ready to leave their cushy jobs and start entrepreneurial ventures, which will ride the new wave of Indian entrepreneurship.
Green growth
Conventional sources of energy are going to be exhausted soon and communities across the world are ready to embrace greener technologies. It all starts with a small idea wherein you end up benefiting the whole society. That's what social entrepreneurs do with their green cause. Gyanesh Pandey, born in a village in Bihar, ended up studying in New York and working in Los Angeles. Many of us would think his story ends here. But, this was the beginning of his cause. Finding his true calling in helping people of his native village, who were in the dark literally as the government had declared that part of Bihar unreachable, Pandey returned to India after spending nine years in the US to produce electricity from rice husk. This man realised that in that part of Bihar, there were tonnes of rice belt. He asked himself, is there a way that being an engineer, he can put rice husk into a combustion machine to generate electricity and sell to every household in the village for Rs 70 a month?
"There was a need to find a solution to this darkness. While researching, we tried all forms of alternate energy but found them too expensive. So we hit upon the idea of rice husk," he said. Scientist S K Singh from the Ministry of Renewable Energy came to Pandey's help. In 2007, Pandey with his friends set up the first plant through an NGO, Samta Samriddhi Foundation, for this purpose. Once success came in, they formed the company in 2008. Right now, Husk Power has 80 plants and by 2014 is aiming 2014 plants.
Another entrepreneur, who is an electronics engineer, moved to the US first but came back after 12 years to get involved with a more socially-conscious cause. Realising a bigger opportunity in solar energy, the thought process of Azure Power began. The government during that time had facilitated a grant to the solar power sector. The potential for solar energy in India is huge. Azure Power is also working on projects with US-India collaboration for the development of solar energy sector.
Azure Power is an independent solar power producer and the first private sector company to implement a megawatt scale grid connected solar photovoltaic power plant in India. By providing solar energy as a service, Azure Power manages the entire project process for customers, reducing the upfront and ongoing operational and management costs.
On why did he choose solar in the first place Inderpeet Singh Wadhwa says, "I wanted to do something renewable. Solar is something you can do at any size, any scale, any location, then why can't I build solar on every rooftop of every village. Solar will be more price-competitive as compared to other sources of energy."
Wadhwa believes solar has the future to build a billion dollar company. With various projects running across Rajasthan, Punjab and Gujarat, break-even varies from project to project with around four to five years each. The company plans a build-up capacity of 100 MW by 2013.
Attracting investors
Renewable energy is also a space which is attracting venture capital too. Shell Foundation partnered with Husk Power Systems in 2008 and attracted Series A round of financing from Shell Foundation. Acumen Fund, a New York-based non-profit venture capital fund, also invested $375,000 (Rs 1.71 crore) in Husk Power Systems.
In November 2008, Azure raised an undisclosed amount from Helion Venture Partners & Foundation Cap in series A funding. In 2010, Azure secured Series B round of funding with IFC, a member of the Word Bank Group. In November 2011, Deutsche Investitions, part of the KfW Bankengruppe, supplied Azure Power India with a €10 million (US$13.6 million) risk capital in compulsory convertible debentures.
Joining hands with entrepreneurs
Evolving as an ecosystem of technology, equipments, processes, gadgets and management tools for rural electrification, the aim of Husk Power is to partner with agencies that have presence in different geographies (or have the desire to work on the ground) and give them a package that hand-holds them through the operations. The franchisee will set up a plant, build grid and sell electricity. It works as a 'pay-for-use' service, where each individual using the service will pay for it. According to Pandey, "The franchisee should invest money and be willing to work. Husk Power will hand-hold them through the entire process. There would be refresher training, MIS, etc. Monetizing the byproduct, carbon credits would be the company's key areas."
As more and more entrepreneurs join this cause, it seems like an electrifying idea.