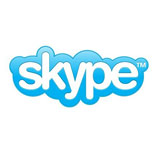 The magic of Voice over Internet Protocol (VoIP) is no longer an enigma to you. It gives a boost to one of the most vital processes of your business – communication, which is the key to reach out to customers, clients and vendors ahead of your competitors and be the best in your industry.
So what is the best VoIP service available in the market? Harry Brelsford, CEO, SMB Nation, at a conference suggested use Skype. It is one of the best forms of Internet telephony, he says.
Skype is a means of online communication that allows users to speak and chat as well as see one another. Let us learn more about it.
Easy to use: It's as simple as click and say hello, whether it's a message or a video call. It's that quick and very easy. And it's easy to integrate Skype in your communication system. Download the software free and get started.
Richer communication: Skype enables you to hold conference calls for more than five people at a time. Not just voice calls but you can also have video calls, send photos and videos through Skype. The quality of communication you hold using Skype definitely improves and hereby improves your business. Options to divert calls are also available.
Cost effective: Calls are free from Skype to Skype, and less expensive from Skype to phone. Now, that will prevent you from looking at your watch each time you make a long distance call. International calls are much more expensive when made using your conventional telephone set. Skype uses the regular internet connection and the only cost you have to bear is the monthly Internet bill, which is any day cheaper than what telephone companies would charge you.
Better Reach: With click-to-call buttons on your website, customers with Skype can call you for free from around the world through Skype. Now this is immensely useful for companies with a worldwide customer base.
Mobility: One USA based manufacturer of computer and consumer electronics has launched a Skype phone in India, which automatically connects to Skype even as you are on the move; if you are in a Wi-Fi zone. You can stay connected even while you are traveling or on a holiday. All you need is an Internet connection and Skype.