5 Tips for an effective Sales pitch
Does your customer turnoff when you attempt to sell your product across?
Tags: Tips for an effective Sales pitch, sales pitch, customers, Research their needs, Use laymanís language, Sell benefits, sales people
BY Entrepreneur | Feb 05, 2010 comments ( 7 ) |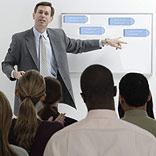 Does your sales pitch convey the idea that you want to put across to your customers or do you try to 'push' your product to your customers due to which most of them turn off? What you need to do is to design an effective sales pitch!
When I say that your pitch should be effective, I mean that it should be such that it answers your customers' needs. What you should be selling is not the product or its features, but a hope, a need or a dream that one will be able to fulfill by purchasing your product.
Research their needs: Before pitching your products to your customers, make sure that you talk to them first, either over phone or through emails to find out their needs and requirement. Once you have a good idea of what they require and what are their preferences, you can then customise your pitch to suit their specific requirements. Try to be as precise as possible. Make sure that you know about your competitors and their products well and what is it that makes your product superior to theirs.
Use layman's language: Whenever you talk to your prospect either over phone or in person, try to keep your language as simple as possible. Your pitch should be straight and should be addressing their specific issues and not describing your product features. Try to explain technical things in layman language so that they develop a relationship of trust with you.
Sell benefits and not the product: The biggest mistake that most sales people commit is that they try to sell the product and its features and not their benefits. Whenever you approach your customers make sure that you stress more on the benefits that they can have by purchasing your product and not on your products features.
Don't push or interrupt while they speak: This is also something which is very commonly followed by sales people. They try to 'impose' their products on their customers without listening to their problems and their specific needs. What you need to understand is that the customers today are not ignorant; if they want to buy something they would research on every competitor of yours to understand the pros and cons of their product. So you need to understand their requirements before pitching your products.
Talk as a friend or a well-wisher: While approaching your customer, sound like his well-wisher or a person through whom, he can have some advantage. The advantage could be in terms of convenience or in terms of cheaper facility.
Please add your comment
orestes beck
January 05, 2011 at 8:27 am
man good tips cause im a sales rep for advertising new tips once again
Reply |
satish
May 07, 2010 at 12:20 am
good information . helps alot
Reply |
Ravi
February 20, 2010 at 7:48 am
Very nice, thanksalot
Reply |
Smriti
February 19, 2010 at 4:29 am
Godd one
Reply |
janmahmad khatri
February 09, 2010 at 11:46 pm
very nice to learn and follow
Reply |
N M Puri
February 05, 2010 at 12:16 am
Yes , we need to understand the customers need , develop our sales pitch to marry the need , and leave the customer happy & satisfied.
Reply |
ashish
February 04, 2010 at 2:19 am
these are very gud points to remember. thanks
Reply |