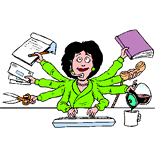 As a growing entrepreneur your business captivates you to the extent that you are left with little mental space to think on the possibility of delegating your work to others. Your business may have grown and you may have started employing people. However the mere fact that you have started hiring does not imply that you have learnt to effectively delegate tasks to others.
Just consider how much time you are spending checking mails, responding to all phone calls, important or not, organizing your day, scheduling your meetings and zillions of other stuff. All this is important yet unproductive work which can be conveniently delegated. And what better than having a secretary.
Rahul Jain, business coach who runs his own company Business Coaching India says, having achieved a turnover in multiples of crores, your business may be poised for the next level of growth. Yet it is quite possible that you may not have seriously thought of having a secretary which may not cost you more than INR 15, 000 to INR 20, 000 per month. It is not only the decision to have a secretary that is important, rather also your selection criteria. Conventionally secretaries are preferred as ones with a pleasing personality. However you need to watch out for other important attributes as well.
According to Rahul, ideally your secretary should be one staying within the radius of 5 kilometers from your office. You should note that your secretary would know important details about your business and personal life as well. Therefore it is preferable if she is married with the responsibility of kids to handle, so that she can dedicate all her time and resources to work and is left with little energy for gossip and rumor mongering.
Apart from these musts your secretary should have excellent communication skills, well organized and efficient enough to handle paper work, organize meetings, plan your travel and manage your emails in proper order.